Join the #HelpChildrenRise Spring Campaign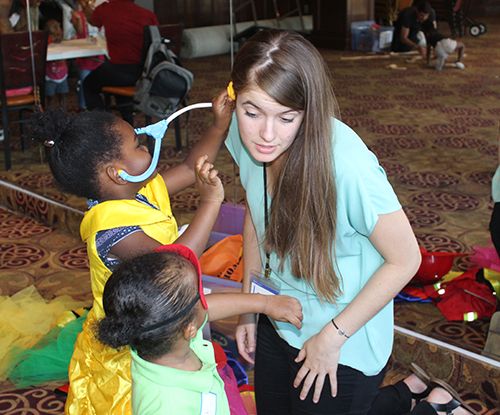 The medical play set was new to the playroom and "Jordan," 5, immediately focused on the dental tools and the plastic mouth that opened and closed. He decided to get Play-Doh to make cavities for the teeth, then carefully used the tools to pick out the "mold," as he called the cavities. He appointed the Playtime site manager as mom to the mouth and explained that her "child" should eat more vegetables to stop the mold from growing bigger. Then four-year-old "Amara" joined in and wrote notes about the patient on a clipboard.
Visit any of Playtime's play programs and you're likely to find yourself pulled into what grown-ups call dramatic play—when children act out roles and scenarios from their imaginations. Dramatic play is an important developmental process giving children a chance to express their own ideas, thoughts, and feelings in a safe and fun setting. And for children experiencing homelessness, this form of play is especially important. They get the chance to take control of a situation that may scare or confuse them. They can be the doctor or the dentist or the superhero! Dramatic play also increases language skills, builds empathy, and encourages self-control.
You play an integral role in our ability to serve children and families in shelter. As the city grapples with stopping the spread of COVID-19, Playtime is adapting and doing what it can from a distance. With your support, we are creating play kits with fun reusable toys and activities to keep the children entertained in their shelter rooms; we have created a Parent Survival Guide full of tips on easy-to-do indoor games and online resources; and we have been distributing emergency supplies such as food gift cards and advocating for needed services and supports to ensure families can stay healthy and continue on the path to housing stability. As soon as it is safe, we will reopen our play programs.
Help us get two $25,000 matching grants provided by the Robert I. Schattner Foundation and author Rachel Renée Russell and illustrator Nikki Russell of the #1 New York Times best-selling book series for children, Dork Diaries. All contributions will ensure children like Jordan and Amara continue to get the support they need to build resiliency and reduce the stress of homelessness compounded by this health emergency.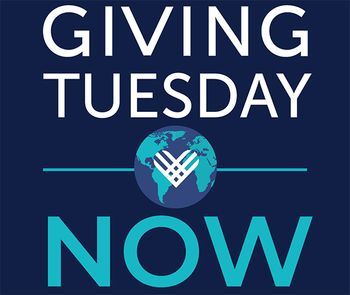 Our campaign will culminate on #GivingTuesdayNow, a global day of giving and unity on May 5 as an emergency response to the unprecedented need caused by COVID-19.
There's still time to get your friends, family, and coworkers involved, too. Tell them that one $25 donation turns into $75! Create a fundraising page and every dollar raised will help support families experiencing homelessness during the pandemic while ensuring safe and fun play spaces where children in shelters can constructively express emotions, solve problems, develop friendships will continue once the crisis has passed.
Take advantage of this amazing offer today!
Here's what to do:
1. Create Your Page

Click the "CREATE A FUNDRAISER" button and set up your fundraising page. Post a picture of yourself or your team and tell the world why you think supporting play at this unprecedented time is important to you. Here's a Fundraising Tool Kit to help you set up and launch your campaign.

2. Tell Your Friends

Once your fundraising page is done, tell your friends that you want to help raise funds to support children experiencing homelessness in D.C. during the current health crisis.

3. Help Children Rise

The money you raise will provide emergency supports like food, Pull-Ups, referrals to community resources, and play kits that give children living in emergency shelters and transitional housing the chance to reduce stress and build resiliency during a time of crisis.
---
Connect with us on Facebook and Twitter to get updates on what we're doing.