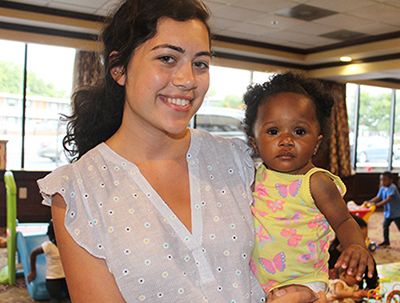 The A/C was out at D.C. General Family Emergency Shelter. "Ms. Erica" and I had been told to move to the preteen room because "it's definitely cooler" than any other room in the shelter. The only ones who didn't seem to notice how warm it was were the children trying to enter program early. Ms. Erica and I sat down, amidst the heat and the noise of the preteens, and got to talking.
Ms. Erica had come to D.C. General in April 2017 with her two children. A few health circumstances had negatively affected their finances. When the rent went up, she tried to contact the landlord, but there'd been a change and the new landlord wasn't willing to work with her. She didn't have the money, and her family was evicted.
I had recently visited the National Building Museum's Evicted exhibit with the Playtime Project staff and board. Staring at the numbers and quotes from Matthew Desmond's book, Evicted: Poverty and Profit in the American City (Desmond collaborated with the museum to produce the exhibit) had been harrowing, and now I was speaking with someone who had lived through being evicted.
A senior at the University of Missouri, I had come to D.C. as part of the Kinder Scholars program with the requirement to also get an internship. I was pleased to get a chance to be the communications intern with Playtime, and felt fortunate to have the chance to learn about the issue of homelessness and to meet families like Erica's.
After three months at D.C. General, her children joined the Playtime Project's programs. Her son went to the big kids' room for 3-7 year olds, and her daughter attended the preteen program.
"The program is great," Ms. Erica told me. "It allows the kids to just be kids." This is something Ms. Erica repeated many times to me, and this is one of Playtime's foundational beliefs: children deserve play; they deserve to act their age.
The benefits of play during childhood drives Playtime. When children are allowed to spend time dressing up, doing crafts, or just interacting with others their own age, they're developing the necessary skills that will help them later on in life.
As I visited each program, I noticed children at every site would be knocking on the door 10, 15, even 30 minutes early; they'd walk by the doors and yell, "It's Playtime! It's Playtime!" whenever they saw people inside the playrooms. Their parents would scoot them along, "Not yet!"
One of my favorite nights at program was my first night in the D.C. General big kids' room. A volunteer, Connie, brought snacks and arts and crafts for the children. Glitter glue, stickers, colored pencils—masterpieces were made that night.
"My kids have brought home more crafts playing here than any other program or class they've gone to," said Ms. Erica. "They just love it."
Volunteers can make a huge impact by spending a few hours with the children throughout the week—this is productive time when they aren't in school or up in their small rooms of the shelter where things are often crowded.
"The kids here have been through so many transitions in their lives already, Playtime is something they'll remember and feel good about," said Ms. Erica.
Her children especially enjoy the dress-up games and craft sessions, activities that build confidence and creativity.
Ms. Erica has also volunteered with Playtime, helping out in the playroom or being a parent chaperone on field trips. "Playtime allows parents to have a little break from being with their kids," she said. "I mean, we're together all of the time except for when they're at school or program."
You can help make a difference in the lives of hundreds of children living in shelter! Support Playtime's transition from D.C. General to D.C.'s overflow shelter hotels by contributing to our Benefit of Play peer-to-peer fundraising campaign.