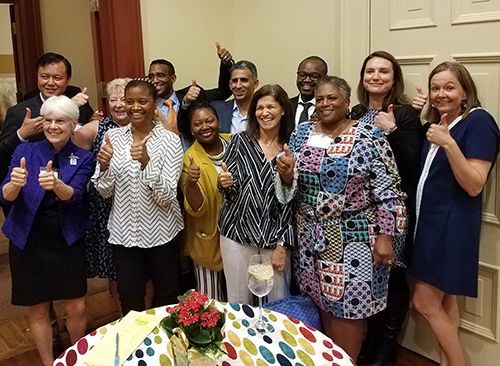 We did it! Your terrific support of our fall Benefit of Play fundraising event allowed us to reach our $50,000 goal to ensure play continues for children living in the city's overflow shelter hotels. Thank you!
During the Benefit, we recognized three heroes for their support of Playtime and the families and children at D.C. General:
Ward 6 Councilmember Charles Allen, who helped to get the laundry room installed inside the shelter, easing the burden on families living there.
Petula Dvorak of the Washington Post, who has written many opinion columns highlighting the issue of homelessness and telling stories that otherwise would not have been heard.
Because of our dedicated donors and volunteers Playtime has brought the power of play to thousands of children living in family shelters throughout the District of Columbia for the past 15 years. And our Benefit of Play event affirmed your continued support to ensure play is available in ALL family shelter settings across the city. As Petula Dvorak noted in her comments, play stimulates brain development for children, and your support is "creating not Pop Rocks, but fireworks" in their brains!
Today, more than 1,000 children currently live in the city's overflow shelter hotels. As the city begins rolling out its seven new smaller shelters, the need continues to be great. Our work is as important now as it was 15 years ago.
Thank you to all who helped make our October Benefit of Play fundraising event such a success – more than 115 were in attendance at the Hill Center at the Old Naval Hospital. Thank you to our sponsors: Capstone LLC; Willkie Farr & Gallagher; Jacqueline and Neal Higgins; Business Benefits Group; Gelmen, Rosenberg & Freeman; PEPCO; Liz and Ty Voyles; Lutheran Church of the Reformation; and Analytica. And a special thank you to our Host Committee of over 20 individuals and local businesses!
We look forward to the next 15 years of bringing the power of play to children experiencing homelessness.