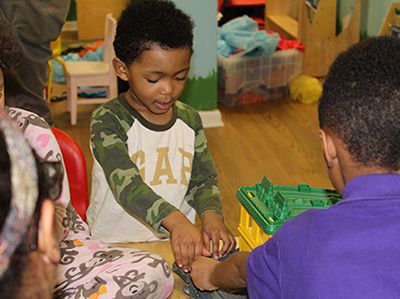 Four-year-old "Rashid" used to run wildly through the playroom in one of our transitional housing partner sites, forcing a volunteer to chase him down. When the site manager clapped her hands to get everyone's attention, Rashid, who is deaf, didn't understand that it was time to sit and eat snack. The volunteer would run after him, trying to make eye contact. Without the ability to sign, she struggled to calm his behavior. And if he didn't want to pay attention, he just looked away and continued to run and jump around the room in his own world.
That is, until we recruited one of our interns who knows sign language to work with him. Though he knew how to sign, he had learned not to communicate with anyone during Playtime. Jennifer was able to clearly direct him on the evening's activities, on when he could run, when to slow down, and when it was time for snack. She also taught the other children and volunteers how to communicate with him. Now, Rashid feels more included in Playtime. Instead of playing by himself, he happily plays with others, and instead of grabbing toys, he's learned that if he signs "please," the kids understand what he means. He's learned to follow directions and to control his impulse to run. "He's more comfortable asking for what he wants," says Jennifer.
Recognizing the need to have someone who could effectively communicate with Rashid was instrumental in helping him not only feel included in the playroom, but in making his experience at Playtime more meaningful. Many of the children we serve have very specific needs, and Playtime embraces the challenge to meet those needs. We adapt and find the right resource to ensure that each child gets his/her needs met, no matter what they are.
Your support allows us to meet the needs of children like Rashid—to ensure every child experiencing homelessness in all our programs gets to connect with a caring adult, solve problems creatively, build self-confidence and resiliency, develop new friendships, enjoy fun activities, and receive a nutritious snack.
Here are three ways you can help make play more meaningful for each child living in shelter during this upcoming holiday season:
Give a monetary gift to enrich our Playtime curricula, and provide healthy snacks, parent outreach, volunteer training, and field trips. Consider becoming a sustaining, monthly donor!
Multiply the Impact of Your Gift by submitting your donation for a match from your employer and spreading the word about Playtime to your colleagues.
Gift Your Birthday for Play! Turn your celebration into action for children and youth experiencing homelessness across the District of Columbia.