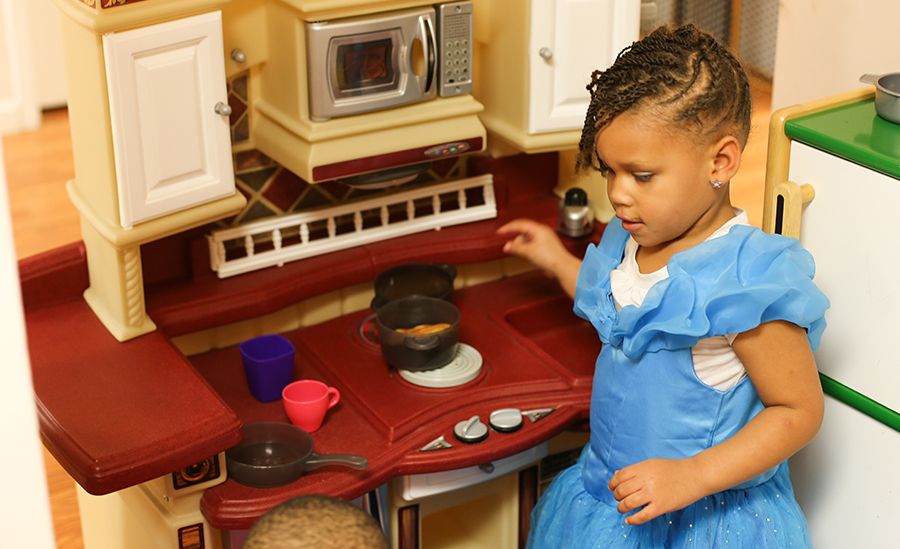 Enter any of our Playtime programs and you will find certain staples of childhood: a play kitchen, dress-up clothes, toy vehicles, blocks, dolls. We use toys as tools to help nurture imagination and facilitate children engaging in pretend play.
Child Trends News Service recently reported that new research by Developmental Psychologist Thalia Goldstein, Ph.D., revealed that pretend play has unique social and emotional advantages for children. For eight weeks, Goldstein studied 97 five-year-olds enrolled in pre-kindergarten Head Start and found that children participating in dramatic pretend play increased their emotional control.
This comes as no surprise to us at Playtime. We see these results on a regular basis during our programs. Pretend play is a staple of our programming—mostly because the children love it, but also, because we understand the importance of giving children autonomy, giving them an opportunity to be in control and to decide who they want to be. By taking on the role of a chef, or a firefighter, or a scientist, children learn agency and what it means to be human.
Our programming isn't simply giving children things to do to pass the time. We put much thought and analysis into the activities and the environment we create for children living in shelters. Over the years, we have developed and honed our play programming to help children heal from trauma and build resiliency. We know the power of play and over the next few months we are excited to begin rolling out our new Playtime curriculum—The Playbook.
The Playbook is designed to be a resource to our volunteers and site staff to implement interactive games and activities for the different age ranges we serve across all five partner shelter sites. This curriculum guide is curated with activities and accompanying kits that are easy to set up and fun for the children, while addressing three areas (or domains) of focus: social-emotional learning, problem solving, and optimism for the future. We'll continue to maintain a free play environment, as well as offer intentional activities.
As we implement the new curriculum, Tora Burns, our Curriculum and Evaluation Specialist, will train volunteers on how to use The Playbook, assess and evaluate the progress of children and youth who attend our programs, and identify program deficiencies and recommend appropriate interventions.
Children experiencing homelessness—especially those living in the overflow shelter hotels along New York Avenue—often have little or no access to safe play spaces, let alone the opportunity to participate in activities that help nurture their childhood development.
That's why we continue to enhance and adapt our programming to meet the varied needs of children in shelters, to give them a chance to grow into healthy adults, and help stop the cycle of intergenerational homelessness.
Thank you to all who have supported us, and continue to support us, along this exciting journey!