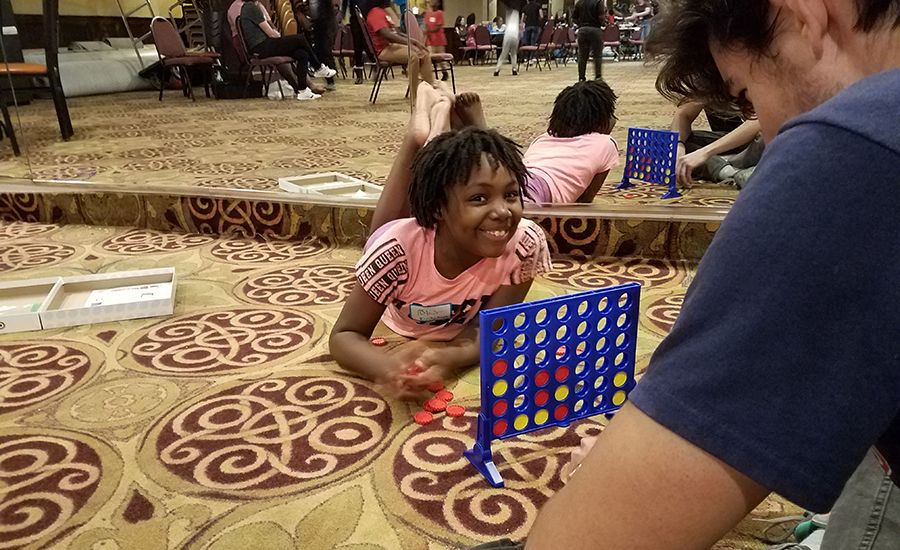 We are thrilled to announce that Axar Management, which owns the Quality Inn overflow shelter on New York Avenue, has stepped up as a hero of play! The hotel company is donating the space for Playtime to add two more nights of play at the hotel shelter. This means we can soon offer two nights of Playtime for 6-month- to 7-year-olds and two nights for preteens.
To catch you up: We launched play programming at the Quality Inn overflow shelter in January 2017. We were given use of the hotel's ballroom plus a storage room for the toys, and we nicknamed it "pop-up Playtime" because at the beginning of each session, we set up play stations around the ballroom then stack the toys in the closet when it's over. Though the ballroom is a large space, we struggled to serve toddlers learning to walk with rambunctious preteens all in the same room. So we asked if we could give the preteens their own program by having two additional evenings. Initially, Axar Management said yes, but only if we paid $1,000 per week to rent the space for those two extra nights, which was not in our budget.
We negotiated back and forth, but the hotel company held its ground. So Playtime split the age groups, offering one night to our little ones and one for preteens, ensuring both age groups had access to play at least one night a week. Meanwhile, we were trying to explore every possible avenue to address the impasse or identify alternatives, but we kept coming up empty.
Then this week, we got notice from Axar Management that we can use the ballroom for those two additional nights, and have lobby-level bathroom access restored. This is magnificent news that will make it possible to double the dosage of play for children 6 months-12.
The power of play cannot be underestimated. Research shows that pretend play stimulates language development, which is crucial for children entering school. Play stimulates brain functioning and teaches collaboration—how to negotiate and resolve conflicts. "Play and learning are inextricably linked," says the American Academy of Pediatrics. "[Learning] thrives when children are given some agency (control of their own actions) to play a role in their own learning.‍"
Giving children more opportunities to engage in activities that help them build resiliency, reduce stress, and heal from the trauma of homelessness goes a long way in helping to stop the cycle of homelessness.
We applaud Axar Management for recognizing that play is an essential part of childhood development, and that these two distinct age groups each deserve two evenings a week to play. Thank you for being our hero of play!