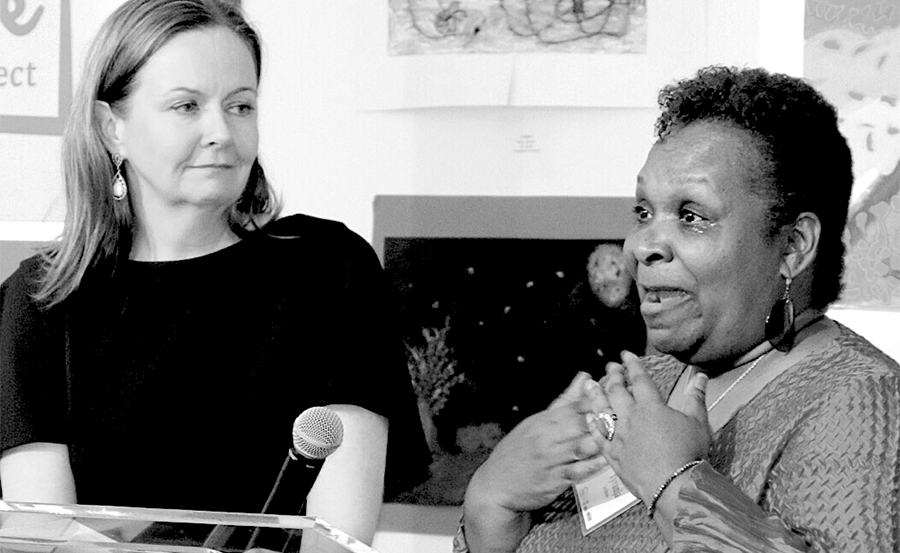 Tyranja Jackson was already crying by the time she stepped up to the lectern. Fourteen years had passed since she had spent 10 months in D.C. Village, one of the city's emergency shelters for families that closed around 2007.
Tyranja credits Playtime for helping her and her daughter, T'Roya, get through that troubling time of their lives. Standing before an audience of Playtime supporters during the Spring into Playtime event at the Pepco Edison Place Gallery, Tyranja wiped tears from her eyes.
"Playtime was just amazing," she said. "I don't think people really realize that the kids suffer so bad [in the shelters]. We think of the parents, and we think of how to help the parents, but we have the little people there, and that's our future."
She had been working for the federal government as a contracting officer when she began suffering from debilitating headaches – it became virtually impossible to work, and her health insurance only covered so much. When money ran out, she sought help from the city.
"When we went to the shelter, the kids suffered so bad because they couldn't play," she said. "The monitor didn't want to hear them talk, didn't want to see them. The parents were stressed out, so what happens? You see the kids getting beat on. You see the kids getting shut in the rooms because no one wants to be bothered with the kids. When I saw my daughter sitting on the couch pulling out her hair, I knew that something had to be done."
Her daughter, who was 10 at the time, had been active at a performing arts school with acting and dancing activities. To help T'Roya and the other children in the shelter, Tyranja started teaching them how to crochet and knit.
Then Playtime launched its programming at the shelter. "Playtime Project came in and volunteers came with them, volunteers who really appreciated us." She didn't have to worry about her daughter anymore. "I didn't have to worry about where she was gonna be. I didn't have to worry about fighting. I didn't have to worry about a parent that was so frustrated that they'd take it out on my kid, because I knew T'Roya was in good hands. I knew the kids would get those two hours of just being a kid."
Tyranja shared a message from her daughter, who was unable to attend the event: "The Playtime Project always went out of their way to make us happy. Whatever they could do to take our minds off the position we were in, whether it was bringing activities to us, brand new clothes, or even ice cream trucks. Anything to bring joy to us. I appreciated this. We couldn't wait until the weekend to come to see what they had in store for us. It gave us something to look forward to and keep us going through some difficult times. I'm forever grateful not only for what they did for us but they are such loving people. To this day, I still love and miss them."
Both mother and daughter are still in contact with some of the volunteers they met at D.C. Village.
Before returning to her seat, Tyranja said: "Just remember, whatever you do for someone, it really helps you. If you just help one person, you have enriched your own life so much. Playtime Project not only loves the kids, they love us [parents], too."
Learn how you can enrich your life and the lives of others with Playtime.