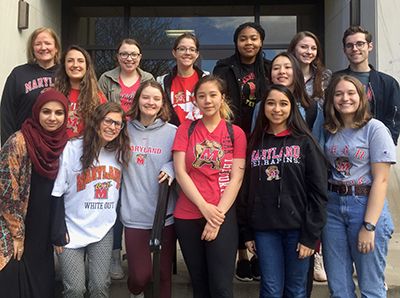 For the last few months, we have been fortunate to have a group of University of Maryland undergraduate Psychology students partnering with us as part of their Community Interventions: Service Learning/Domestic Violence course, which helps give students the knowledge and skills to be effective advocates for women and children who have experienced intimate partner violence. The 16 students began volunteering in February and served at all three overflow shelters, with a different group at each site.
In addition to spending time in the playrooms, the students organized a fundraiser to provide gift bags for the summer that include ChapStick, sunscreen and a bug-repelling citronella wristband, and hosted a donation drive at UMD to purchase play-sized musical instruments for several Playtime programs. They also created a presentation for student groups at UMD to increase interest in volunteering, especially among students of color, and are working on a research project to enhance academic outcomes for Playtime children.
How has volunteering with Playtime affected you?
Working with the children at Playtime has introduced joy and laughter in our week, shown us the powerful resiliency of the children, changed our perceptions regarding people who are homeless, highlighted the connection between domestic violence and homelessness, and inspired us to work to make a difference in our world.
Can you share a couple of memorable moments as Play Rangers?
We love when the children run up and hug us when they arrive at Playtime! Some additional memorable moments are having four adorable babies laughing with joy in the ball pit, seeing the kindness exhibited by the children toward one another (e.g., buying pretend gifts for others), seeing the children dressed up in adorable costumes, and having one of the children crown one of our volunteers as "Queen of Bossing People Around."
What else do you want people to know about your work with Playtime?
We have been changed through our work with Playtime; we receive so much more than what we give as volunteers. We will forever be grateful for the opportunity to partner with this powerful organization that is making a positive difference in the lives of children. Thank you!