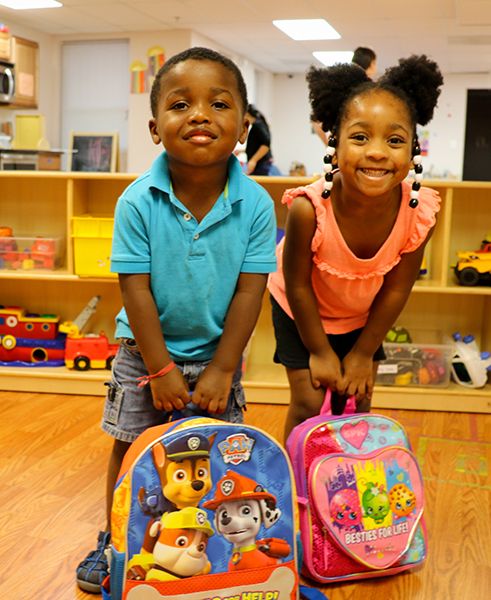 Last year, thanks to so many of you, over 250 children in Playtime received a fully stocked backpack in time for the 2018-2019 school year. 
This year, we are again asking for your help. With your support, we hope to offer around 300 children in our programs the encouragement and support they need for a successful start to the school year in August. To meet our goal of providing high-quality back-to-school supplies, here's what we need: 
$500, which would allow Playtime to purchase pre-packaged school supply kits from Kits for Kidz, a leading supplier of educational materials. Purchasing these kits in bulk creates a considerable cost savings, at $25 per child, and allows donor dollars to stretch farther, providing required school supplies for 20 children. 
Sponsor a Back-to-School Party at one of our shelter sites, where we'll distribute the backpacks. Your group would supply food, decorations, and plan and lead appropriate party activities in collaboration with the site manager and weekly Playtime volunteers. Parties will take place during evening Playtime hours the weeks of August 12 and 19. This is a great activity for 5-10 volunteers, ages 18+.  
Any financial donation. Purchasing backpacks and supplies for all Playtime youth will cost $14,000, but we are committed to making it happen. Any amount you're able to give will have a big impact on our families. 
Your time. Join us to stuff all the backpacks with supplies on Friday, Aug. 9.  
Any gift you provide will ensure a strong back-to-school start for children experiencing homelessness—we appreciate any support you can give. 

If you have questions or want to coordinate a backpack drive, please contact Rebecca Staple at rebecca.staple@playtimeproject.org or 202-329-4481.

Thank you for supporting access to safe and transformative play opportunities and for ensuring that children experiencing homelessness in our community return to school ready to learn!