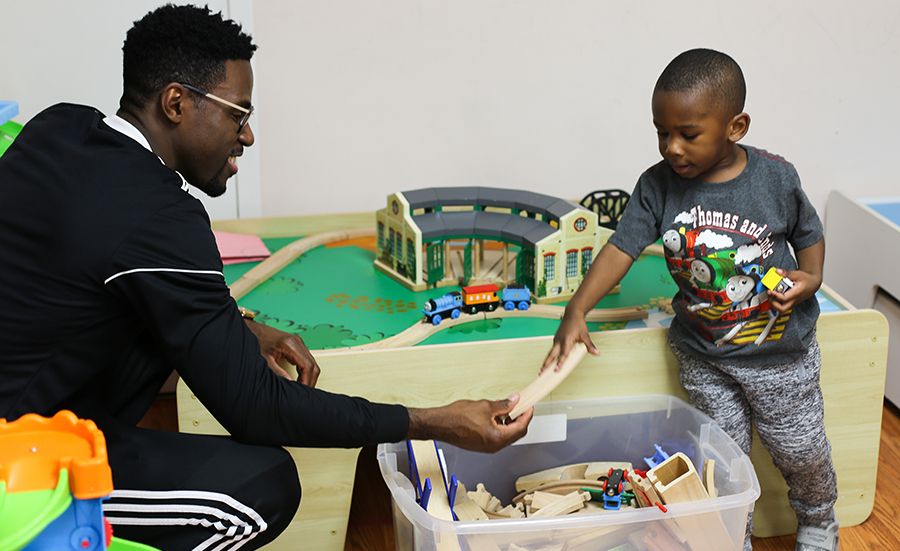 Kevin sat as close to Rob as he could as they worked together on a Lego project. Rob—Kevin's favorite volunteer—had bought a three-in-one Lego set and promised seven-year-old Kevin he could keep the Legos once they finished assembling all three vehicles. However, Kevin and his family moved out of the shelter before they had the chance to finish all three. 
Children experiencing homelessness have lost their homes, friends, and neighborhood, often after a traumatic and/or violent event. Their time in shelter, moreover, can also be marked by loss and disruption, as family dinners at home become group meals in a shelter cafeteria space or huddled in their single room, and there is always the possibility of moving again, often when the city transfers them to another shelter. Consistency and routine can be lost for years as many children in our city bounce in and out of homelessness. 
A year later, family circumstances brought Kevin and his family back in the shelter. Kevin was thrilled to see Rob again, and couldn't believe his eyes when Rob pulled out the box of Legos from the toy bin. Eagerly, smiling together sitting side-by-side on the bench, they finished the third vehicle—an airplane. 
Sadly, Kevin's family's return to shelter is not unique. This makes it imperative that children have access to consistent opportunities to play in the spaces where they live, to provide stability to a child during a time that is anything but. Research shows that routine—at mealtimes, bedtime, a family schedule—contributes to relationship building and a feeling of belonging, and therefore, can help ease transitions during times of change. Routine also provides a structure for guiding behavior and early childhood development. 
Research also supports the power of lasting relationships. Children who have at least one stable, positive relationship with an adult are more likely to develop the skills and abilities necessary to overcome adverse life experiences, such as homelessness. 
With your support, Playtime staff and volunteers operate year-round evening play programs twice a week, from 6:30-8:30 p.m., in two emergency and two transitional family shelters.
Playtime is there for children and families day in, day out, and you can be too! Join the Playtime Building Blocks, a special group committed to sustaining play programs and providing predictable support to meet the ongoing needs of our youth. Set up a regular automatic monthly or quarterly donation to increase your impact and know you have made a dedicated commitment to families experiencing homelessness. You can change or cancel your participation at any time. 
$15/month ($0.50/day!) buys healthy snacks with fresh produce for 10 children per month. 
$25/month ($0.83/day!) can purchase 12 spring break play kits (bag with school supplies, socks, games, and art supplies) for children to enjoy while they are on vacation from school. 
$30/month ($1/day!) provides one field trip per month for one child enrolled in Playtime. 
$50/month ($1.66/day!) supports events throughout the year at one Playtime site (birthdays, holidays, etc.). 
Will you join our Building Blocks giving program and be a source of consistent support for children experiencing homelessness? Thank you for believing that children like Kevin deserve the comfort of play, routine, and lasting relationships.