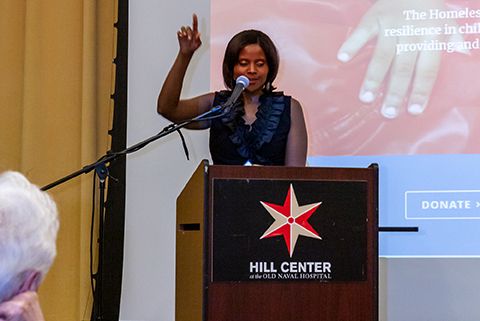 Playtime is entering an exciting new phase with our expansion to new sites and our new strategic plan. We've proven we can adapt with the changing landscape of homeless services and we will continue to do so.
Your help is needed to reach more children and families and reach them on a deeper level, through services like case management and parenting classes. Your support funds direct services to children experiencing homelessness in our community. Your immediate impact is clear in the countless stories of our volunteers and staff.
Stories like mine. Bear with me because though I've presented to many audiences, this is the first time I've actually shared my personal story. When I was eight years old, the only home that I knew caught on fire.  We lost everything. I can still smell the burning plastic that used to be my Barbie dolls and Cabbage Patch kids while I was sifting through the turmoil after my father asked me to bag anything worth saving. I took my one barely full trash bag, and we were off to the "luxurious" Days Inn to spend a few nights while we were looking for our new home. Those few days ended up being around eight months. And did I fail to mention that my parents decided this was the best time for them to split up? What I realize now, is that life doesn't stop when homelessness begins.
So my mom, my sister, and I moved into the motel. My mother tried her best to make this one-room space a home. She even adopted a dog so that we had a pet to distract us from our living situation. We didn't have access to a kitchen, so there were no home-cooked meals, making school-provided breakfast and lunch a necessity. School is such an important staple for children going through their time of homelessness. I can recall, where we lived in the South, every morning, my mother would hurry us up because we had to beat the train. If the train came before we crossed the tracks, everyone just turned their cars off because it would take so long for the train to pass that they knew they were going to waste their gas. And we had to drive all the way across town, so some days I would get to school late. There was no bus provided for me, there was no public transportation, there was nothing except a sympathetic principal and a teacher who told my parents, "I understand." It was important in my life then to have that understanding.
Most days, we had dinners that could be made in a microwave or things such as sandwiches that didn't require heat at all. I recently had a conversation with my mother, and she told me a story about how one day, she bought a bucket of chicken. She was so happy to have eight mixed pieces of those 13 herbs and spices from KFC!  My mother told me that she sat the bucket on the table, and then went down to the lobby to pay for the week – when you are facing homelessness and it's not through the shelter system, the family has to pay for it themselves. When she got back to the room, our dog had climbed on to the table and had eaten all the chicken. My mother said she just sat and cried.  Not because the chicken was gone, but because she just wanted to offer us something normal. To provide a meal to her family like any other safely housed family.
After she told me this story, I said to her, "It was a difficult time in our lives when we were homeless." She looked at me confused and said, "Homeless? We weren't homeless!" Then we had a deep conversation about what homelessness means, about what housing instability means, and she broke down and cried all over again, because it wasn't until that moment that she realized that what we had gone through was indeed homelessness. We had nowhere else to go, and if we couldn't make that weekly payment, there was a risk of us being out on the street.
This is why I give, and this is why I hope that you will give, too. An organization such as Playtime would have been life altering for my parents and my sister and I. Do you know where we played at the Days Inn? Right in that little patch of grass in front of the hotel, along Interstate 30.
We need your help! And there are many ways to get involved.
You can volunteer as a weekly Play Ranger in the playrooms; organize a group of colleagues or friends for a group volunteer project, or donate goods or services.
Please give what you can. Your support is so important to us. Your donation is important to me.  I was a little homeless girl in Little Rock, Arkansas, that had to fight my way to Washington, D.C. I owe it to other children experiencing homelessness to help so that they don't have such a hard time.