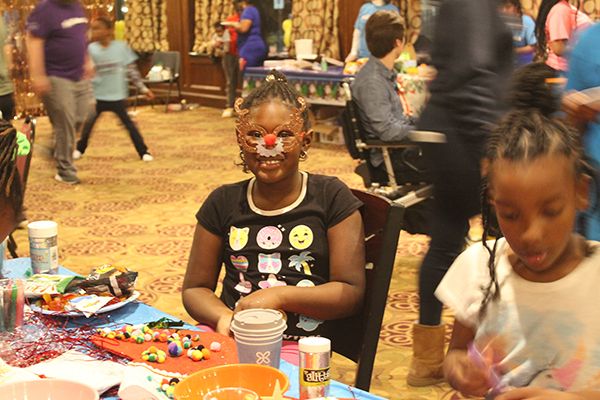 Welcome to a brand new year – another one full of change for Playtime! First, I want to thank the many individuals and foundations who contributed more than $155,000 to our year-end fundraising campaign! Because of you, we are in a strong position to forge ahead and provide trauma-informed play programming at two new partner sites. 
Later this month, we are thrilled to be launching Playtime twice a week for children living at My Sister's Place, the District's oldest domestic violence shelter in Ward 5. And in March, we will launch programming at the city's Ward 7 short-term family housing program, The Horizon. We have been actively recruiting volunteers and are ready to create a welcoming and fun environment for the children at both shelters.
As we make this shift to two new partner sites, we are sad to leave the Quality Inn overflow shelter on New York Avenue. D.C.'s Department of Human Services recently announced that the shelter will close this winter instead of next fall as originally planned. We opened Playtime two nights a week at the Quality Inn on Jan. 30, 2017, and after months of requests, finally added two more nights last summer specifically for our Preteen Program. We have developed strong bonds with many of the families—some of which have been there since we started—so it's always with mixed feelings that we close a program.
Our "pop-up" playroom in the hotel's ballroom became a fun place of connection for our volunteers and the children who had the opportunity to learn and heal through play. Parents have shared with us how much they appreciated the break and meeting with Playtime's social worker, who will continue to provide resources and referrals to many of the families from Quality Inn as they transition to new housing across the city.
The closure of Quality Inn will not affect our three current partner sites—we continue to provide programming for children at Turning Point Center for Women & Children, DASH's Cornerstone Program, and the Days Inn overflow shelter.
This month is especially exciting because of the recent transportation win we got for families living in hotel shelters on New York Avenue. The D.C. government is starting a two-to-three-month pilot shuttle service from the hotels to the NOMA and Stadium Armory metro stations to help children get to and from school. This will make a huge difference for the more than 500 children still living in these shelter hotels. Because of our advocacy, we received a generous $15,000 emergency grant from the Philip L. Graham Fund that provided ride-share gift cards to 75 Playtime families living in the hotels to help their kids get to school during December.
I am grateful to our many supporters who entrust us to provide quality play programming for children experiencing homelessness across the city, and I appreciate the board members and staff who have developed an organization nimble enough to meet the ever-changing needs of homelessness in the nation's capital.
Thank you for continuing to support the vast-reaching power of play!