Andy Chasin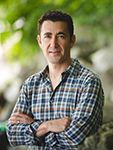 Andy Chasin is Assistant Vice President of Federal Policy and Advocacy for Blue Shield of California, a four-million-member nonprofit health plan with more than $13 billion in annual revenue. Blue Shield was the first health plan in the country to endorse the goal of universal coverage, and it has been the largest carrier on the state's exchange, Covered California. 
In his role, Andy partners with regulators, policymakers, and government officials to advocate Blue Shield's priorities, including expanded access to quality and affordable health care. Andy is based in Washington, D.C., and has led federal advocacy on both implementation of the Affordable Care Act (ACA) and opposing attempts to replace the ACA through the American Health Care Act (AHCA). He previously served as Associate General Counsel for Health Reform at Blue Shield, where he helped lead implementation of the ACA for the company. Prior to joining Blue Shield, Andy served as Health Policy Council for the Senate Republican Policy Committee. As a leadership staffer, he was responsible for providing Senate offices with analysis and guidance on pending health care legislation and amendments. After graduating law school from Stanford University, he was an associate at a major D.C. law firm where he specialized in regulatory issues.
Andy lives in D.C. with his wife and two children. He is a long-time triathlete and avid biker who enjoys any and all outdoor activities.