Donate Goods
Helping a family meet an immediate or seasonal need with a small, simple donation helps bring stability, easing the burden of housing insecurity and allowing the family to focus on long-term goals.
If you have goods you hope to donate, please email info@playtimeproject.org in advance of delivery due to space constraints at our program sites and office. We cannot accept gently used or other in-kind donations without prior approval.
---
Here are our most current needs (donations should be in-season and brand new):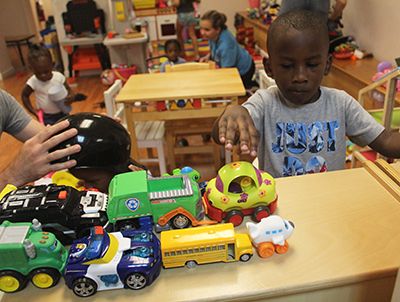 Any items on our MyRegistry Wish List
Play kits (contact us for list of play kit components)
Baby teething toys, stroller toys, toddler books, and baby floor gyms
Grocery store gift cards (Safeway, Giant, and Target) in increments of $10 or $25
Snack packs (contact us for list of snack pack components)
Items We DO NOT Need:
Stuffed animals
Used toys, puzzles, or books
Broken or incomplete toys
Board games
Used clothing or uniforms
Diapers or Pull-Ups
Strollers or car seats 
To keep up with our needs in real time, watch our Facebook and Twitter pages for immediate needs.
Please consider donating clothing items at a MetroAid Bin near you. MetroAid gives a portion of funds raised through sourcing and selling donated clothing to Playtime.
And we always appreciate general monetary donations, which allow us to meet the needs of new families and children coming into shelters.