Give the Gift of Time
Playtime Project is made possible through the dedication of more than 600 volunteers every year. There are a number of different ways you can support Playtime as a volunteer, including:
becoming a General Volunteer and supporting us with behind-the-scenes work
undergoing training and background checks to become a Play Ranger and serve in our playrooms
signing up as a Volunteer in Motion to help us with occasional transportation needs
You can read more about each type of volunteer opportunity below. All volunteers are required to attend a Volunteer Orientation before getting started with us! See dates and sign up for a session on our Volunteer Training Calendar here.
General Support Volunteers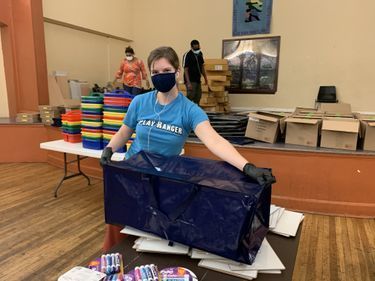 Our General Support Volunteers help us receive and sort donations, prepare mailings, beautify playrooms, and even run Pop-Up Playtime events in the community! They are an important part of ensuring our small but mighty team can continue to serve hundreds of children and families every year.
Please note: General Volunteers do not volunteer in our evening play programs. Volunteers interested in serving in our playrooms (aka Play Rangers) must undergo additional training and a number of background checks. You can read more about how to become a Play Ranger below!
Play Rangers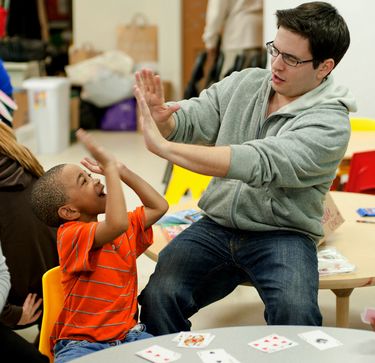 Running our weekly programs wouldn't be possible without the tremendous commitment of our volunteer Play Rangers. They interact firsthand with the children and youth we are fortunate to serve. This is a perfect opportunity if you're looking to make a meaningful and sustained difference in your community and in the life of a child. Play Rangers volunteer in our weekday afternoon and evening play programs at DMV-area shelters, rec centers, and schools, engaging in intentional free play activities.
In addition to the 1-hour Playtime Volunteer Orientation, Play Rangers are required to take the New Play Ranger Training, which is offered every other month. You can see upcoming sessions and sign up on our Volunteer Training Calendar. You can take the Volunteer Orientation and New Play Ranger Training in any order you'd like, but you must complete both you'll be able to volunteer at our play programs.
Volunteer Play Rangers must be at least 18 years old. All Play Rangers are required to complete a New Play Ranger Training and submit background clearances before they can get started.
Volunteers in Motion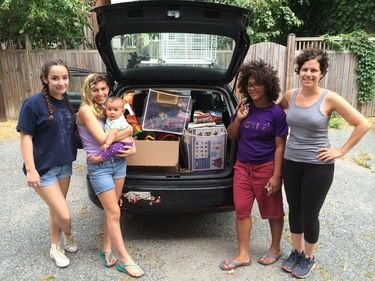 We're always looking for volunteers with cars who can commit once a month to move donations from our office to our partner site locations in Washington DC and/or Prince George's County, MD. Interested volunteers serve on an on-call basis; the exact dates/times of pick-up and drop-off will depend on volunteer availability and amount of donations. Volunteers in Motion receive notifications when needs arise.
Special Guest Volunteers
Do you teach trap yoga? Are you an astronaut planning our next mission to Mars? Come share your talents with the children in our programs! We love welcoming groups or individuals with unique talents, interests, or skills to visit our program and share their passion with the children. We ask that special guest groups bring something new and fresh to our playrooms that the children in our programs might not already have access to.
Special guest groups will be asked to provide a detailed explanation of the activity they want to bring to program, as well as share any previous experience they have working with youth.
Please note: Scheduling these visits depends on the current interests and needs of our sites. 
Other Opportunities
Have questions about any of the above opportunities, or have an idea about a different way to support Playtime? Reach out to our team at volunteer@playtimeproject.org.