Due to COVID-19, Playtime is temporarily halting the onboarding of new volunteers. We will begin accepting new volunteers when our programs reopen. You can support our work now by joining our #HelpChildrenRise spring campaign.
Give the Gift of Time
The Homeless Children's Playtime Project is made possible through the dedication of more than 600 volunteers every year. Read about a few of the many ways you can join our team below.
All Playtime volunteers (except Adopt a Playroom volunteers) must be over the age of 18. 
Play Rangers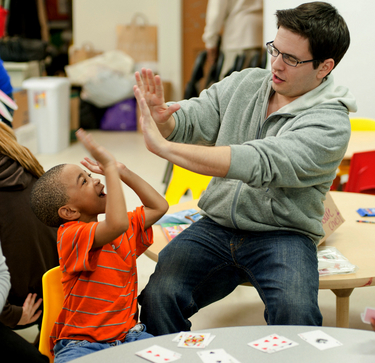 Running our weekly programs wouldn't be possible without the tremendous commitment of our volunteer Play Rangers. They interact firsthand with the children and youth we are fortunate to serve. This is a perfect opportunity if you're looking to make a meaningful and sustained difference in your community and in the life of a child.
Visit our Become a Play Ranger page to learn more.
Volunteer Play Rangers must be at least 18 years old.
Group Opportunities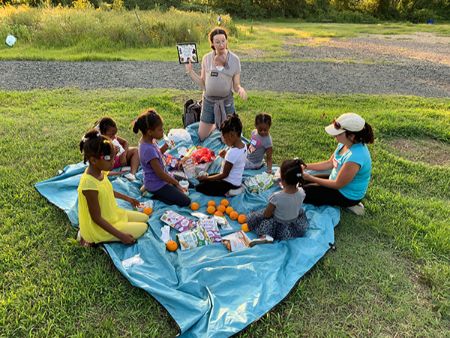 Are you part of a group that's looking to give back to the community? We heavily rely on volunteers to keep our playrooms running and to bring special events and activities to the children in our programs. Group volunteers make one-time or ongoing commitments to support our programs through beautification projects, hosting parties, and more! Visit our Group Volunteers page for more information.
Become a Volunteer in Motion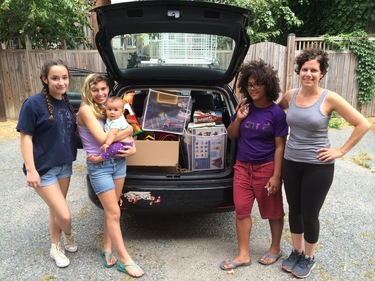 We're always looking for volunteers with cars who can commit once a month to move donations from our office to our partner shelter site locations. Interested volunteers serve on an on-call basis; the exact dates/times of pick-up and drop-off will depend on volunteer availability and amount of donations. Volunteers in Motion receive notifications when needs arise.
Other Opportunities
Have questions about any of the above opportunities, or have an idea about a different way to support Playtime? Reach out to our Volunteer Program Manager Nicolien Buholzer at nicolien@playtimeproject.org.