Careers
Becoming a member of Playtime's team is a great opportunity to influence the future of a small, growing nonprofit, and positively impact the lives of about 700 children experiencing homelessness in D.C. each year. Playtime is an innovative organization dedicated to providing educational play activities, a therapeutic environment, opportunities to improve academically, access to community resources, and joy to children living in emergency and transitional housing programs.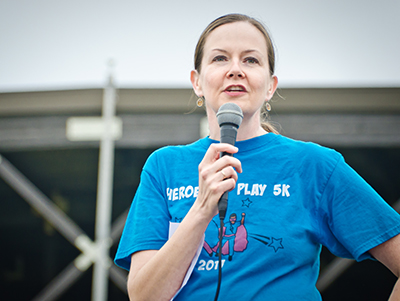 Jamila Larson, Executive Director
The homeless epidemic in D.C. disproportionally affects the most marginalized people in society, including people of color, people from working class backgrounds, and those who identify as LGBTQ. We believe these communities must be centered in the work we do, and for this reason we strongly encourage applications from people with these identities or who are members of other marginalized communities.  
If you don't see an opening that's right for you, consider other ways to get involved with Playtime.
Contact hiring@playtimeproject.org for more information.
---
Positions Available
Program Associate (multiple positions), Part-Time
The Program Associate supports the Site Manager in implementing a play-based program model. Assist the Site Manager in overseeing play programs for multiple sessions per week by creating and supervising age-appropriate, guided activities with intentional therapeutic and educational benefits. In the absence of the Site Manager, maintain the playroom's procedures and expectations with a focus on the positive discipline model.