What We Do
We believe play is a human right that all children deserve, regardless of housing status. We partner with homeless shelters in Washington, D.C., to create safe and fun play spaces for the children where they live. (We are not a shelter.)
Through weekly programs, our trained and screened volunteers provide activities, healthy snacks, and fun for children at emergency shelter and transitional housing sites throughout Washington, D.C. Our trauma-informed programs seek to restore normalcy by providing opportunities for children to learn and heal through play and empowering them to make choices, express themselves, relate to others, and find support.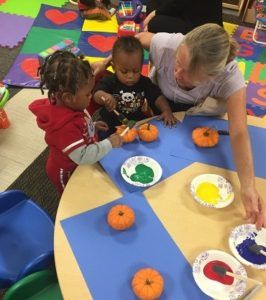 Playtime Program
For infants and toddlers from 6 months to 3 years old, and for big kids from 3-11 years old. Children choose from a variety of fun and educational play activities.
Preteen Program
For children ages 8-12 years old, this program promotes wellness, empowerment, and optimism for the future.
Field Trip Program
Monthly field trips provide opportunities for all program participants to get out of the shelter and explore the city. Field trips have included museum exhibits, amusement parks, baseball games, and more.
If you have an idea for a field trip or access to discounted/free tickets to an event, museum, or sports team, please contact us!