Our Programs
We provide evening programs, approximately 6:30 p.m.-8:30 p.m.; each site may vary.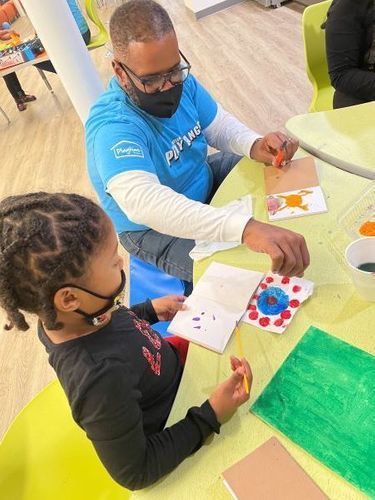 Playtime provides programs and services at family shelters and community sites, such as schools. We serve children six months to 14 years old. During weekly or biweekly, evening or afterschool programs, children choose from a variety of fun and developmentally appropriate play activities that aim to promote problem-solving and social-emotional skills and optimism for the future. Children receive a healthy snack. Field trips provide opportunities for program participants to get out of the shelter and explore the city. Past trips have included museum exhibits, amusement parks, baseball games, and more. Special guests increase children's worldviews; past guests include: the Uncle Devin Show, Capitol Hill Arts Workshop, and Step Afrika!
"Pop-Up" Family Playtime events at community spaces like schools and local housing organizations include family play activities, play kits, information about Playtime's services, supplies for parents like diapers and grocery gift cards, and special guests.
The Playtime-to-Go play kits program provides age-appropriate toys, games, and activities to children entering D.C.'s housing systems at Virginia Williams Family Resource Center and to families at partner sites and "Pop-Up" events.