Project Housewarming DC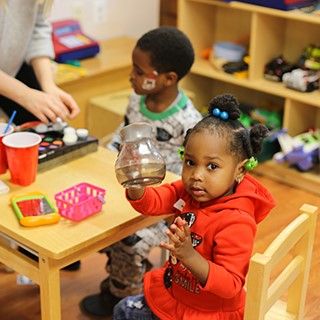 Playtime partners with family homeless shelters in Washington, D.C., to create safe and fun play spaces for the children where they live. In addition, we provide families with a variety of supports that go beyond play, including referrals to developmental assessments, childcare, disability services, and more. We also provide back-to-school supplies, year-end holiday gifts, play costumes, diapers and Pull-Ups, and household items.
When families leave the shelter or transitional housing program―after stays ranging from a few months to a few years―they typically have little to equip their new home. They have likely secured housing through a rapid-rehousing or voucher program and may have received only one bed per family member. That leaves a huge gap in basic necessities for setting up their home.
To assist families transitioning out of homelessness, Playtime has partnered with Project Housewarming DC, a volunteer-led initiative that coordinates with families to help rebuild their lives and keep their families safe and healthy. Project Housewarming provides a range of all-new home essentials donated by community members. Playtime helps identify families leaving shelter and in need of support. A team of volunteers works with each family to identify and provide what they need.
Items provided, based on each family's needs include:
Pots and pans | Dishes | Silverware | Knife set | Bakeware | Pillows | Towels | Shower curtain | Bath mat | Vacuum cleaner | Microwave | Broom and dustpan | Mop | Trash cans | Bucket with cleaning supplies
How can you help?
Visit one of Project Housewarming's gift registries to purchase needed items for families:
All purchases are shipped directly to Project Housewarming to be delivered to each family. Donations are tax-deductible. NOTE: When making a purchase, please identify your item as a gift on the registry, and enter your name and full address in the gift message fields so we can track donations and send you an acknowledgment of your generous support of Playtime and Project Housewarming.
Questions? You can reach the volunteer leaders of Project Housewarming DC at project.housewarmingdc@gmail.com, or Playtime's Development team at development@playtimeproject.org.