30 Days of Play in April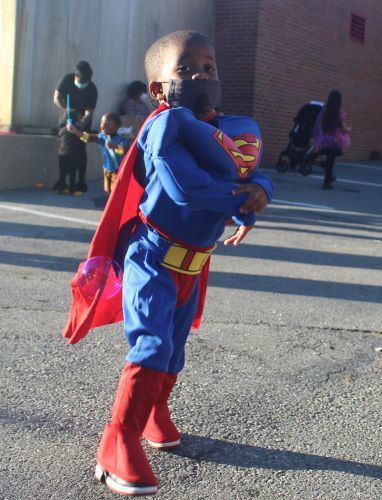 Join us for our #DidUPlay2day spring campaign to help Playtime bring play to more children living in shelters across the District. And bring play into your life with our #30DaysOfPlay.
We've listed below some of the nationally recognized days during April with suggestions to make the day playful (click the date for details). Jump over to our Facebook, Twitter or Instagram page and share with us how you're adding play to your day. 
Click the date for how to play.
April 1

Let's kick off #30DaysOfPlay by having fun pranking family and friends. Keep it positive, safe, and kind. What's the best April Fool's joke you've experienced? #DidUPlay2day #AprilFoolsDay

National Peanut Butter and Jelly Day
International Children's Book Day

National Find a Rainbow Day
World Party Day

April 3

If it's raining and the sun is out, chances are high a rainbow will form in the sky. If it's not raining, try making your own rainbow using the sunshine or a flashlight! Let's see your rainbows.  

For World Party Day, pump up the jams and share your best dance moves with us on our social platforms! Tag us and use #30DaysOfPlay #DidUPlay2day

National Walk Around Things Day

April 4

Have fun walking around things today. See who can walk around the most things (furniture, lamp posts, fire hydrants). Tag us in your videos! #30DaysOfPlay #DidUPlay2day

April 5

Ever heard of First Contact Day? This is the day to imagine meeting an alien from outer space! Dress up as an alien or as your favorite astronaut or space traveler. Show us your best alien costumes! #30DaysOfPlay #DidUPlay2day

April 6

You don't have to have Scottish ancestry to celebrate National Tartan Day. Try making your own tartan designs (just don't call it plaid!) and share your creations on our social platforms! #30DaysOfPlay #DidUPlay2day

World Health Day
National No Housework Day

April 7

Today also is World Health Day and this year's theme is Building a fairer, healthier world. Let's make sure children experiencing homelessness get access to the health benefits of play!

It's also National No Housework Day, so skip the housework and go play! (Preferably outside.) Tell us how you played today. 

National Zoo Lovers Day
Draw a Bird Day

National Unicorn Day
Name Yourself Day

April 9

If you don't have a unicorn costume handy for National Unicorn Day, make your own horn and wear it all day! 

What if you could change your name to anything, what would it be? It's Name Yourself Day, so give it a try. Visit our social platforms and tell us your favorite names (for people and pets!) and why? #30DaysOfPlay #DidUPlay2day

National Farm Animals Day
Hug Your Dog Day

April 10

It's National Farm Animals Day so gather the family together and sing, "Old MacDonald Had A Farm." Have fun making animal noises, and get creative with this farm animal coloring sheet. #30DaysOfPlay #DidUPlay2day

Dog owners! It's also Hug Your Dog Day. Show your pooch some love!

April 11

Take time to play with your pet today (if you have one) or interview your friends with pets about their experience as a pet owner. Tell us the most unusual pet you or a friend has ever had. #30DaysOfPlay #DidUPlay2day

Walk on Your Wild Side Day
National For Twelves Day

April 12

It's time to get out of your comfort zone for Walk on Your Wild Side Day! Tell us on our social platforms one crazy thing you have on your bucket list. Enjoy this fun video for motivation to do something new! #30DaysOfPlay #DidUPlay2day

On National For Twelves Day there are a dozen ways to celebrate the number 12! (See what we did there?) We challenge you to name as many things as you can that people buy by the dozen. 

April 13

Game night, anyone? Scrabble was invented in 1931 by a New York architect and originally named Lexico. What's your favorite board game? 

Look Up at the Sky Day
International Moment of Laughter Day

April 14

Nothing better than a relaxing day or night watching the sky. Turn Look Up at the Sky Day into a Bingo game and see how many things you can spot in the sky.

For International Moment of Laughter Day, we're pretty certain you can't keep a straight face watching this video of babies laughing!

April 15

Let's count how many high fives you can give or get today. Up high? Down low? And check out the awesome work of High Fives Foundation, getting athletes back to an active lifestyle after a life-altering accident.

National Wear Your Pajamas to Work Day

April 16

Okay, so most of us have been doing this for a while now, but at least we have a day that makes it official. Are you willing to share a picture of your favorite pajamas? 

National Haiku Poetry Day

April 17

Can you write haiku? What do you think of ours?

It's time to play now
Put your work away, okay.
And let's have some fun!

April 18

Today begins NATIONAL VOLUNTEERS WEEK. We can't thank our volunteers enough and are grateful for all their support during a year of quarantine. We're asking our #volunteers to answer this question: How did you play today? #30DaysOfPlay #DidUPlay2day  

April 19

It's not what you think. Have you ever tried hanging out laundry? Today celebrates this natural way to dry our clothes. Find your brightest crayons and get creative with this coloring page. 

April 20

Who do you look like? Someone famous, a family member, or maybe you're a twin? Share who you think your friends and family look like, or have all your friends plan to dress alike today and Zoom to see if you pulled it off! 

National Kindergarten Day

April 21

Thank your children's (and your) kindergarten teacher today. Give them a call or send them a note. What's your favorite memory of playing in Kindergarten? 

April 22

There are many ways to celebrate Earth Day, from selecting re-usable products instead of disposable ones to picking up trash on your street or local park. Playtime has been a proud partner of Urban Beet, which creates and teaches youth about urban farms. 

National Talk Like Shakespeare Day
World Book Day

April 23

We speaketh to thee in the voice of the historical bard to celebrate his day. Playeth a game to see who can sayeth the most words like Shakespeare. 

What better time than on World Book Day to relax with a book. Reading exercises the brain, improves concentration, and stimulates your imagination. What's your favorite children's book? 

National Kiss of Hope Day

April 24

It's a perfect time to tell your loved ones how much you care for them. It's also a great day to donate to a local organization supporting children in need (hint hint!). 

April 25

"Can you hear me now?" Many of us use our phones for so many things except what they were originally designed for—talking to one another. Take time to call friends and family and wish them a happy telephone day! 

National Kids and Pets Day

April 26

Pets can be a wonderful addition to the home, offering companionship, comfort, and play! Be sure to do your research on the best pet for your family, and enjoy the benefits of an animal buddy.

National Tell a Story Day

April 27

What's your story? Gather friends and family and take turns sharing a story about one of your best play memories as a child. Share it with us on social media! #30DaysOfPlay #DidUPlay2day  

April 28

Dress up as your favorite superhero, and send a note of thanks to the superhero in your life. We're sending a huge thank you to our superheroes of play: the many donors and volunteers who support us! 

National Zipper Day
International Dance Day

April 29

We don't often think much about zippers until they're broken, but since it's National Zipper Day, see how many clothes you have with a zipper? Who in your family has the most zippers in their closet? 

Whether it's Salsa, the Electric Slide, the Hustle, the Macarena, the Twist, or Gangnam Style, let's put on our dancing shoes and celebrate International Dance Day! What's your favorite dance? 

 

National Bugs Bunny Day
National Poem In Your Pocket Day

April 30

"What's up, doc?" Bugs Bunny has been delighting audiences since this day in 1938. Gather the family and enjoy a few cartoons, and see who can imitate him the best. 

For National Poem In Your Pocket Day, write or print your favorite poem, carry it with you, and surprise everyone you meet by reading it to them. Share your poem with us! And find wonderful poetry at Poets.org.