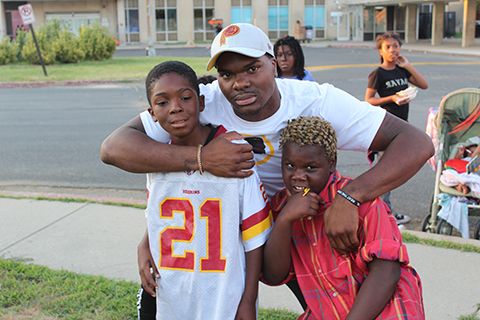 The room was buzzing with anticipation at the start of the preteen program Thursday night at D.C. General. Pictures and cards were placed on a table so that the children could write questions or color photos for Redskins rookie, Vontae Diggs.
Everyone started looking towards the door when Diggs arrived, "Oh! He's right there!" one boy exclaimed and ran over to check things out.
Vontae Diggs was born in Las Vegas before he moved to Chicago with his mother and older brother. While there, Diggs bounced back and forth between grandmother's house and his aunt's home in the suburbs.
"I thought it was a vacation when I was a kid, like it was fun to move back and forth," Diggs said, until he found himself living in the family car. He would wash up in McDonalds with only two outfits to his name.
Once he was back in the suburbs, Diggs' mother asked him if he wanted to move back to the city with her. After thinking about it in silence, Diggs told her, "If I move back to the city with you, I'll die."
Diggs described himself as a hard-headed and stubborn person who always wanted to be like his older brother, even if it meant doing the wrong things.
"If he didn't do his work in school, I wasn't going to do work. If he got in a fight, I was right there with him," Digg told the Playtime preteens.
The preteens listened with rapt attention when Diggs talked about his past. Then in other moments, they were tossing footballs in the air or randomly doing push-ups in an effort to impress the NFL rookie. This didn't faze Diggs, though. He knew when to joke and laugh with the preteens, but also was able to get their attention when discussing more serious topics.
Diggs decided to partner with Athletes for Hope to motivate and inspire children in his adopted hometown who are in the middle of their own homeless crisis.
[caption id="attachment_109329" align="alignright" width="300"] Photo by Bailey Conard[/caption]
"Everything you're going through, I've been through."
He described the challenging experiences of his childhood as "the driving force when I play," and said he thinks about it when he wakes up in the morning, when he goes to bed at night, and when he's playing on the field.
When Diggs invited the children to share their fears, one child mentioned a time when he was at a gas station with his mom and someone started shooting. Diggs immediately validated that fear and shared similar stories of his own childhood that connected his life with what the children living at D.C. General have experienced.
"Bullets have no names," he told them after talking about life in the inner-city of Chicago. He warned the preteens that "being around the wrong people at the wrong time can end everything." Instead, Diggs told them, find mentors in your school. A high school football coach, for example, used to welcome Diggs to his house every day after practice where Diggs was required to do his homework.
"I couldn't get up from that table until everything was done. No food, water, bathroom breaks, he made sure I was finished before I got to do anything else."
Diggs' list of mentors over the years included coaches, teachers, his friend's father who eventually adopted Diggs; they all made a difference in his life.
At the end of the night, Diggs accepted the kids' challenge to throw around a football, so he headed outside like the pied piper, with everybody following closely behind. The group walked past a father sitting with a pile of cardboard boxes around him, packed up and ready to leave D.C. General as the shelter prepares to close.
"Are you a real football player?" the man asked Diggs.
"Yes, I am," Diggs answered.
The father got up and joined the parade as security guards, parents, even a 2-year-old shelter resident all got a chance to play catch with a real football player.
A football player who's been in their shoes.