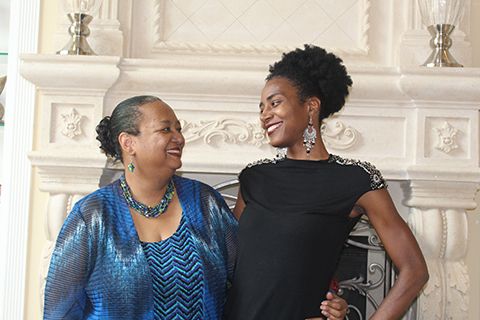 Though Rachel Renée Russell has never been homeless, she knows what it's like to lose everything, to be faced with the possibility of moving back in with her mother—at age 47!
"It was 2009. I was going through a divorce," she said. "And I had the rug pulled out from under me."
Rachel is the author of the #1 New York Times best-selling children's book series—Dork Diaries—and a committed donor and volunteer of the Playtime Project. Having to start over instilled a passion to do what she can to help children and families struggling to make it.
She was living a good life in Michigan with her husband and two daughters. Then her husband left, and she lost her home, vehicle, and her business—she practiced consumer bankruptcy law from several offices across the state. She, and her youngest daughter, Nikki, who still lived at home, had two choices: move in with her mother or move to Virginia and rent a home from her sister. Moving to a new state meant she would have to start her career over and take a position as a law clerk until she passed the bar to become a licensed attorney in Virginia. Rachel chose the latter, and hasn't looked back.
She had begun writing the first Dork Diaries book the year her marriage ended.  The month after her divorce was finalized, the book landed on the New York Times bestsellers list and became a smash hit series. The 13th installment comes out in October 2018. Her daughter, Nikki Russell, illustrates the books, which have been translated into 42 languages.
"I know what I went through. And if it can happen to me, it can happen to anyone," Rachel said. "So many families are out there struggling to make ends meet, and just one thing—a divorce, job loss, or health crisis—can send a family to a shelter!"
She first learned about Playtime through an Internet search for volunteer opportunities with children, and after donating toys during the holiday season, both she and Nikki began volunteering with the preteens. "There was a lot of energy in the room," Rachel said of her first Playtime experience. "Clearly the kids were happy to be there, and wanted to be there. They were interested and engaged, and that motivates you, as a volunteer, to give it your all."
"I was floored to see how willing the kids were to come and hang out with us," added Nikki. "They value your company. It's so important to give the children a genuine relationship, to encourage them to do better and be better people in the world."
Rachel and Nikki have become staunch supporters of Playtime and have sponsored a Book Fair at D.C. General and helped fund the trip to see the movie, "Black Panther," complete with souvenirs.
"I'm proud to be affiliated with an organization that offers a wider range of help to families that have fallen on hard times," said Rachel. "Anything we can do to help the moms and the children is important."
Playtime is profoundly grateful to Rachel and Nikki for continuing their commitment to Playtime, and we're excited to announce that they are offering a dollar-for-dollar match, up to $10,000 raised toward our fall fundraising campaign, which includes the Benefit of Play event next month and online peer-to-peer campaign. Now is the perfect time to double your donation, and ensure play continues for children living in the city's overflow shelter hotels on New York Avenue.