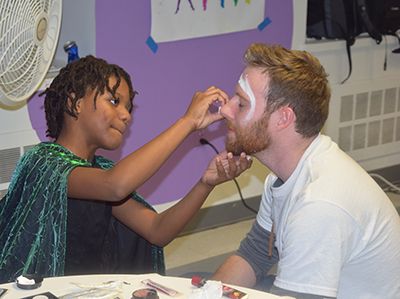 Our first Volunteer of the Month for 2019 is Perry Oddo, who joined Playtime in September 2017. He started out volunteering with the Preteen program at D.C. General, then when the family shelter closed, he moved to the preteen program at the Quality Inn overflow shelter when it launched last fall.
In nominating Perry, Site Manager Sarah Fraser said: "Perry has been integral to getting the preteen program on its feet at the Quality Inn. He's done an incredible job inspiring the creativity in children during program."
Why did you initially get involved with Playtime?
I had just moved to the area and wanted to find a way to get involved with my new neighborhood and community. I'd previously worked with kids before at East End House in Cambridge, Mass., so when I found out about Playtime it seemed like a perfect fit.
How has volunteering with Playtime affected you?
Playtime has been a wonderful experience. It's so easy to get caught up with work and life that taking a few hours a week to just play and be silly helps to put a lot in perspective. Spending time with the kids, getting to know their families, and hanging out with the other volunteers honestly makes Playtime the best part of my week.
Can you share a memorable moment as a Play Ranger?
Only a few days into volunteering we hosted a Halloween party at D.C. General where I was assigned to paint faces. It took approximately five minutes before the kids decided they'd rather paint my face, which they proceeded to do, liberally. I think I had paint in my beard for about three days afterwards, but it was worth it, and the experience quickly taught me that Playtime would require stepping outside my comfort zone on a weekly basis.
What else do you want people to know about your work with Playtime?
You may think that being an effective volunteer requires you to teach valuable life lessons or impart wisdom to the kids, when in reality it's as simple as being present, supportive, and willing to just play.