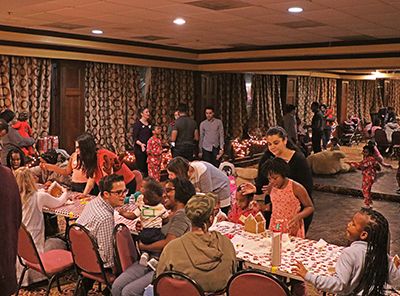 Our holiday season to-do lists each year are always formidable: Matching almost 500 children's wish lists with holiday gift donors, planning five amazing holiday parties at each of our sites, on top of maintaining our usual Playtime programming … and raising $150,000 in six weeks to ensure programming continues throughout the upcoming year.
Playtime has ambitious goals for 2019, including:
Adding two new programs to reach more children who don't have access to play,
Rolling out and training volunteers on our new Playtime Curriculum, and
Evaluating children's progress in several social-emotional domains.
To accomplish all of this, we need committed financial support to hire qualified staff who can implement these goals and continue to innovate while keeping Playtime's doors open at our five partner shelters.
As we add up the contributions that came in last month, we are thrilled so many of you—349 individual donors and several foundations and corporations—chose to ensure hundreds of children living in temporary shelters in the nation's capital receive the gift of play. Because of you, we surpassed our year-end goals, putting us in a strong position to lay the foundation for a year of innovation and change!
Thank you, to the brother and sister in Hyattsville, Md., who counted their allowance and gave it to Playtime, to those who gave in honor of loved ones who had passed on, to a former volunteer and new mom who understood better than ever the importance of Playtime for children and increased her gift, and to all of you who came through for Playtime so we can come through for children living in shelters.
One of the more memorable holiday gifts came from the Ford's Theatre Society, which surprised us with a check last month after the last performance of A Christmas Carol.
When "Scrooge" called us on stage in his beautiful, baritone voice to present us with the check, we had no idea what to expect. There we were, surrounded by colorful costumes illuminated by the blinding lights. When he read the amount aloud to the whole audience—$100,777.76—Jan Piercy, our Board Chair, and I were overcome with emotion, literally speechless! This was the first year Playtime had to raise $1 million to meet our financial needs, and honestly, we were anticipating a deficit. But these local actors nominated us and collected donations from their audience members, pushing us over our goal—the moment felt like nothing short of a Christmas miracle.
Washington Post columnist Petula Dvorak wrote a moving story about how the cast nominated us for their annual fundraising campaign and passed hats around after each performance.
We are so grateful to everyone and every gift, large and small, that filled our hats this holiday season!