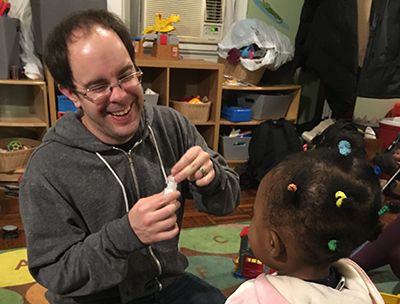 In the spring of 2017, Thomas McCloskey and his wife, Laura, attended a volunteer fair in D.C. and visited our table. They were impressed by our mission and approach, and became volunteers at D.C. General until it closed, then switched to our partner shelter site, DASH Cornerstone Transitional Living Program.
In nominating Thomas for Volunteer of the Month, Site Manager Tora Burns said: "Thomas consistently comes to program with a positive attitude and he works well with the children in the playroom. We have one child that comes to program every night looking for 'Mr. Thomas' and she is really excited to see him. He has a gentle nature that is perfect for working with our infants and toddlers."
Why did you initially get involved with Playtime?
After the 2016 election, I felt depressed and helpless about the state of the world. At first, volunteering at Playtime allowed me to feel like I was making an impact in a small way, if only for a few hours. After meeting the wonderful families and getting a better sense of the scope of homelessness in D.C., I was embarrassed that I hadn't started volunteering years earlier, and I'm honored now to be a part of these communities.
How has volunteering with Playtime affected you?
Going to sleep feeling good about what I did that day is amazing. I look forward to volunteering each week, and I love watching the kids grow up before our eyes.
Can you share a memorable moment as a Play Ranger?
I once told a story at D.C. General about the War of 1812 and the burning of the White House to a group of kids while we were doing arts and crafts. I wasn't sure they were listening, but when they were getting picked up by their parents, one excitedly told his mom about Dolly Madison and how the British soldiers ate her dinner and then set the building on fire.
What else do you want people to know about your work with Playtime?
I can't stress enough how wonderful it feels to be a part of these communities and to feel like I'm helping, even in a small way. Playtime is an amazing program.