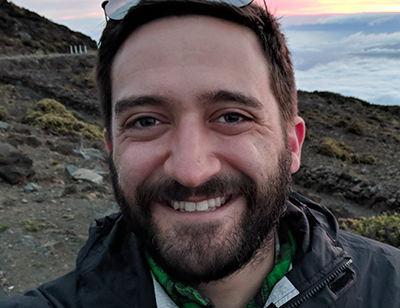 Our Volunteer of the Month for March is Dane Yocco, who became a Play Ranger November 2018 at the Days Inn overflow shelter hotel on New York Avenue. In his nomination, Site Manager Ron Sheffer praised Dane's positive attitude. "He's really empathetic with the children and always has a great attitude no matter how chaotic the playroom is."
"Dane's energy is infectious," added Katie Waldo, a fellow volunteer and Monday night Site Coordinator. "Kids run to him as soon as they arrive and line up to play with him. I remember a great moment a few weeks ago when a little boy got his name tag and then went immediately over to Dane. The boy introduced himself and shook Dane's hand. It was like he knew he would have a good time tonight, and he was safe, because Dane was in the room."
Why did you initially get involved with Playtime?
I live in Northeast D.C. and the disparity between the haves and have-nots is apparent and dramatic. My conscience would not allow me to acknowledge this fact and not take action. For some time, I had a vague idea of getting involved with children in need of support in my area of D.C., so when I found out about Playtime, I was excited to get involved!
How has volunteering with Playtime affected you?
More than anything else, Playtime has taught me that kids experiencing homelessness are kids like any others. They have the same impulses, joys, motivations, and frustrations that I see in my nieces and nephews. I am humbled to see their resilience in spite of their circumstances, and privileged to provide them a space to be themselves and support them in their development.
Can you share a memorable moment as a Play Ranger?
Absolutely! I will never forget a few weeks back a young man, probably no older than 4, who excitedly but politely introduced himself to every Ranger when he arrived at Playtime. He came up to me while I was sitting on the floor and confidently introduced himself by name, asked me how I was doing, and reached out to shake my hand! If only I had his level of poise and affability towards every stranger I met.
What else do you want people to know about your work with Playtime?
For me, Playtime has validated the cliche that "kids teach us as much as we teach them." My experience as a Ranger has brought me to reflect on a variety of topics around community, my privilege, empathy, and deference to others' experience in a profound way I won't soon forget. I sincerely mean it when I say it is a privilege to be there for these kids and am grateful to support them for a very short time each week.