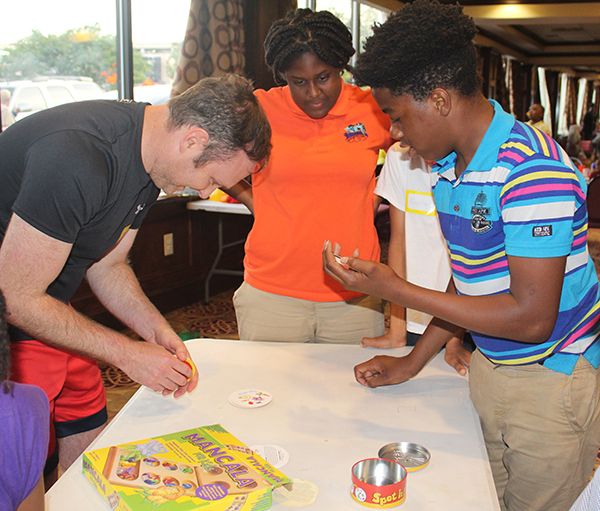 Since our launch at the Quality Inn overflow shelter hotel in January 2017, we've only been able to offer Playtime two nights a week. Little kids (6 months-7 years old) play on Mondays, and big kids ages 8-12 play on Wednesdays. But starting this month, we're thrilled to be doubling the dosage of play at the overflow shelter and welcoming Madison Sampson, our new Preteen Program Manager!
Axar Management, which owns the hotel, is donating the space for us to add two more nights of play, which means both age groups will receive two nights of play each week.
When told we were adding another play night, one preteen said, "Really?" Her eyes widened in excitement. "That's so cool, 'cause I be bored sometimes in my room."
According to "Children's Right to Play" by Stuart Lester and Wendy Russell: "Play has an essential role in building children's resilience across adaptive systems – pleasure, emotion regulation, stress response systems, peer and place attachments, learning and creativity."
Giving children more opportunities to engage in activities that help them build resiliency, reduce stress, and heal from the trauma of homelessness goes a long way in helping to stop the cycle of homelessness.
The "pop-up Playtime" in the hotel's ballroom means that before each session, volunteers set up stations around the room, where books, board games, a basketball corner, and play kitchen invite children to problem solve, build social-emotional skills, and just have fun with each other under the guidance of their favorite volunteers.
"From my experiences teaching and leading summer programming for youth, children in this age group are typically viewed as the 'most challenging' or feared because it is harder for people to see them as children as they transition into teenagers," said Madison. "Unfortunately, those anxieties and feelings are often projected onto them, adding another layer of stress they don't deserve. That makes our work with them even more necessary! Staff and volunteers with the Preteen Program have the ability to counter the energy they may receive from other adults, being a voice that affirms them, and a force of love showing them consistent support and positivity."
We can't wait to get started and to see the children reap the benefits of more time to play!