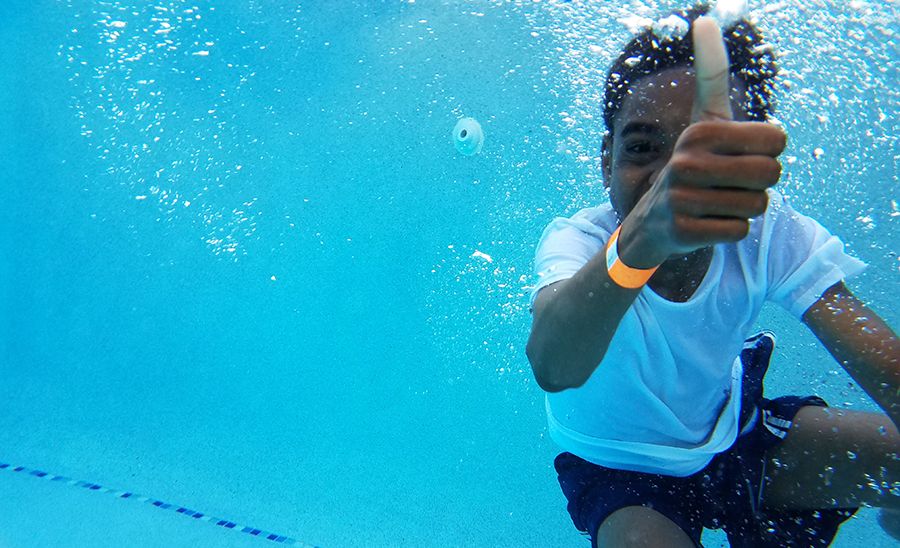 Everyone at Playtime is gearing up for one of the largest field trips we've hosted: in two weeks we're taking about 140 children from all our partner shelter sites to Super, Awesome & Amazing, a 30,000-square-foot sports entertainment complex in Springfield, Va. We're excited to spend a day swimming in the indoor waterpark in the morning, then navigating the climbing and obstacle courses in the afternoon. It's going to be a great day of fun for the children and the chaperones (parents and volunteers)!
To make an event like this happen, there's a lot of preparation involved:
securing buses to transport the children from the shelters to the complex,
purchasing tickets,
providing lunch for all participants, and
making sure all the children have swimsuits and towels for the waterpark.
Many of us take having a bathing suit for granted, but for most of the families we serve, keeping the growing children in swimsuits is another barrier to enjoying a trip to the pool this summer. While many of the children live in overflow shelter hotels, the swimming pools we associate with vacationing at a hotel are not open to the families living in these converted emergency shelters. And, most children we serve don't have a swimming suit required for pool admission.
This year, we were delighted when a sponsor offered to provide funding for the swimsuits—this meant one less thing to worry about (and pay for). But with less than a month before the event, the sponsor announced they had secured only $200. While we were grateful for the donation, Playtime staff had to scramble to find money in our budget to supply suits for each of the 140 children—a cost of more than $2,500.
Thankfully, this doesn't happen frequently. We are fortunate to have dedicated volunteers and donors who support us throughout the year. But there are occasions when Playtime has to step in to cover expenses we hadn't expected. That's why it's so important for us to have monthly donors we can rely on—our Playtime Building Blocks.
Playtime relies on the generosity of the community to be able to provide fun experiences for children experiencing homelessness across the District, and field trips like this happen because of you! Your recurring donations give children quality play programming, including unique and enjoyable field trips like this one to Super, Awesome & Amazing. Please consider signing up to be a Playtime Building Block today.
Thank you for being super, awesome, and amazing by giving children living in shelters the chance to experience water play this summer!