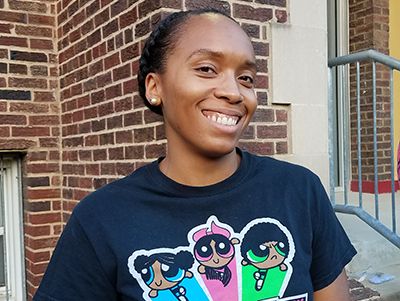 Justine Davenport, our July Volunteer of the Month, started volunteering with Playtime in October 2015 at the DASH Cornerstone Transitional Living Program.
"She is such a positive force for Playtime," said Ron Sheffer, a long-time Site Manager, who recently joined the Playtime team at DASH. "Justine is constantly building children up and shows extreme patience when she works with them. And the children really love her! As a new Site Manager at DASH, I have truly appreciated all of her help and consultation."
Why did you initially get involved with Playtime?
I was looking for an opportunity to work with young children and be more active. Playtime was the perfect fit!
How has volunteering with Playtime affected you?
I am so grateful for Playtime! It has been a positive experience for me. It is a great reminder to have fun and that the smallest things can make the biggest difference.
Can you share a memorable moment as a Play Ranger?
There are so many to choose from, but I would say that my favorite memory was our trip to the pumpkin patch a couple years ago. The kids were all so excited; it was great. On the way there we watched "Moana" and everyone was singing at the top of their lungs. The amount of joy and fun they experienced on the trip there and at the pumpkin patch was great to be a part of.
What else do you want people to know about your work with Playtime?
It's a lot of fun! Play is good for adults, too, and being fully engaged in play means a lot to the children we serve.