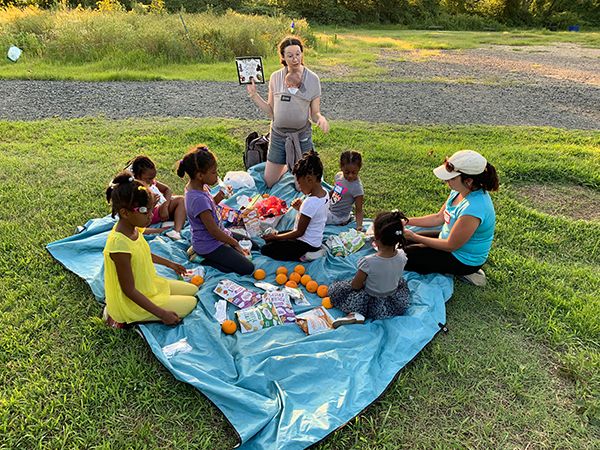 "Playtime always has the best field trips!" said one mom as she watched her children splashing in the pool at the waterpark.
Playtime recently took 74 children from our partner shelter sites, plus parents and volunteers, to Super, Awesome & Amazing, a 30,000-square-foot sports entertainment complex in Springfield, Va. Your donations allowed Playtime to provide all participants with brand new swimsuits, and they spent the day swimming in the indoor waterpark in the morning, then navigating the climbing and obstacle courses in the afternoon.
Just before jumping into the pool, one little girl said, "I made so many good friends today!"
Monthly field trips are an important part of Playtime's curriculum. And this summer we've hosted some pretty unique trips for the children and youth in all our programs.
---
One evening in July, we partnered with the Free Forest School and took children from the Quality Inn overflow shelter to Kingman Island in Northeast D.C., near Benning Road. The Free Forest School's philosophy is to allow children unstructured time to explore the natural environment and learn about nature as they play.
The group of children and preteens took a leisurely stroll around the park and stopped periodically to look at insects and smell the flowers. With so much space to play, they had fun pulling each other in a wagon, running unencumbered, and doing cartwheels through the grass. They spotted turtles peeking out from the water and large white birds in the trees.
"I feel peaceful here," said one of the preteens. "The fresh air is so nice. I want to come here every day."
"The field trip was awesome," said Pennie Theodorou, a Playtime volunteer who accompanied the group to the island. "Overall, it was a really fun way to get the kids out of the shelter into a safe, open space to explore nature. They were able to tap into all their senses with taste (snacks were provided), scent of the flowers/grass, hearing the crickets and other animals, and of course visually taking it all in."
---
Also in July, children from our partner shelter site DASH Cornerstone Transitional Living Program enjoyed a visit to Urban BEET farm at Bethesda-Chevy Chase High School in Bethesda, Md., where they practiced planting and harvesting a garden. They learned about food and farming systems, tasted many of the fresh vegetables they harvested, and planted their own seedlings to grow at home.
Urban BEET is a nonprofit organization founded by Chander Payne, a rising senior at the high school. "The first field trip was an amazing experience for everyone from Urban BEET," he said. "We thoroughly enjoyed working with the children at our urban farm. They are a joy, full of great energy and enthusiasm for learning new things. The excitement in their eyes while planting, harvesting, and learning how to compost gave us all joy, and we are beyond grateful to be working with the Homeless Children's Playtime Project."
Urban BEET has partnered with Playtime to provide fresh vegetables to the children and their families this year, and more field trips to the farm are scheduled throughout the summer.
---
Playtime is able to organize these field trips—securing transportation and food for all the participants—because of your generous donations. Your gifts bring these wide-ranging experiences that are both fun and educational to hundreds of children experiencing homelessness each year. Thank you for continuing to support the power of play all year round!