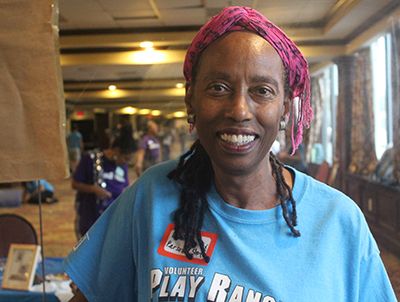 Diane Lynch joined Playtime in February 2019, volunteering one evening a week at the Hotel Arboretum Overflow Shelter. Once that partner site closed this past June, Diane enthusiastically switched to spending two nights a week with the preteen program at the Quality Inn overflow shelter.
"Diane has been a dedicated volunteer working with our amazing preteens at the Quality Inn," said Preteen Program Manager Madison Sampson. "She always arrives early to help setup and brings positive energy to both nights of weekly programming. It's always so great to see her build relationships with each of the children, identifying ways to have fun and challenge them at the same time. She is someone we can always count on to be there for our preteens!"
Why did you initially get involved with Playtime?
I mentioned to a friend that I needed to find a meaningful volunteer situation, either working with children or the elderly. Right away she gave me Playtime's website. I made immediate contact, attended an orientation session, and got started.
How has volunteering with Playtime affected you?
Volunteering with Playtime has me planning my other activities around Playtime's schedule. Having children run in for a hug is very special. In fact, it is so disappointing if enough volunteers don't sign up for a particular evening and the program has to be canceled.
Can you share a memorable moment as a Play Ranger?
A recent memorable moment was the bus trip to Super, Awesome & Amazing where the children's many skills and abilities were on display. Strength and flexibility, courage, determination, goal-setting, and optimism were all on display as walls were scaled and a high wire and other obstacle courses were navigated. Of course, some friendly competition was involved as well. It was an exciting and fun-filled day for all of us.
What else do you want people to know about your work with Playtime?
Others should know that the benefit received from partnering with such an organization is immense. The opportunity to positively influence the lives of children is inspirational and gratifying. If the program added an additional evening, I would gladly be there.