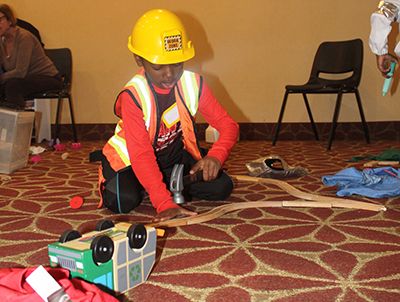 Did you know that employers who match their employees' charitable donations contribute almost $5 billion each year to worthy causes? It's an easy way for companies and organizations to reflect their workplace values and help employees feel their work has a greater impact. Companies can match donations (often 1:1, but some, like the Gates Foundation, match 3:1), offer grants to organizations that employees support, reimburse workers or give them time off for hours spent volunteering, and set up a system for donations to come straight out of employees' paychecks. Many, like the World Bank, even match their retirees' gifts!  
Playtime's generous donors are already taking advantage of their workplace giving programs. We were so grateful to Board Member Jan Piercy when she decided to cover the catering for Playtime's 2018 Benefit of Play. But Jan was thrilled to find out that if she donated the money to Playtime through workplace giving at the World Bank—even as a retiree—she would double her impact and pay for much more than the delicious food at the event.
With Jan's help, the Benefit went on to raise over $52,000 to bring transformative play experiences to children experiencing homelessness. And because of her workplace program, Jan's gift also supported activities such as Playtime's social work services and staff and volunteer transportation needs for an entire year. This is just one example of the power of workplace giving. So far in 2019, Playtime donors have raised almost $90,000 for play through their workplaces, including Host Hotels and Resorts, Microsoft, and the International Monetary Fund. 
Does your employer have a workplace giving program? If you don't have one, a quick call to your human resources department to suggest a program could double or triple your donation to Playtime. 
Playtime is so grateful for all of our generous donors, and we are always looking for ways to maximize your impact for children experiencing homelessness in D.C. If you have to work for a living, make it work for some giving! 
Have questions about workplace giving? Contact our development director, Brandi Stanton, at brandi@playtimeproject.org.