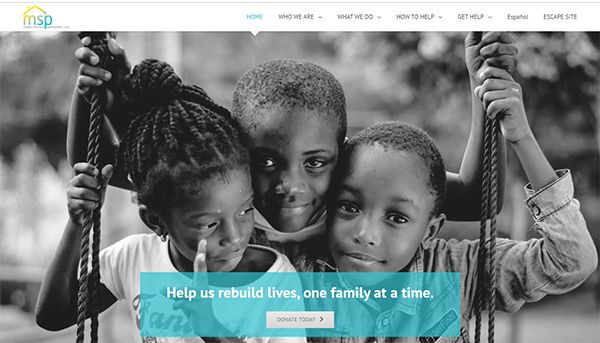 We are pleased to announce, starting in January, Playtime will provide its trauma-informed play programming twice a week for the children living at My Sister's Place, the District's oldest domestic violence shelter.
When we first stepped foot in this program, their excitement to partner with us was palpable. Everybody from the crisis hotline operator to the chef making dinner welcomed us with open arms and talked about how partnering with us will help strengthen their mission.
This incredible organization has been making a significant impact on women and children experiencing domestic violence since 1979. Over the years, they have worked hard to build a truly trauma-informed program where both the parent and child are considered survivors worthy of support services to help them recover. They offer a robust menu of programs for parents and saw the benefit of having Playtime programming to help the children de-stress, work through their emotions, and simply be children.
To launch this program effectively, we need volunteers! We need people to help create a welcoming and fun play space for the children and provide a break for the parents. I encourage anyone looking for a way to consistently give back to their community to consider joining Playtime. And don't worry, you will receive in-depth training to work with children experiencing the trauma of domestic violence and homelessness. A once-a-week commitment can be as fulfilling for you as it is for the families. Our recent Volunteer of the Month Patrick Kane said, "The best thing I've done since living in D.C. is find an organization I care about, and spend my Tuesday evenings with them."
To find out more about becoming a volunteer, visit our Volunteer page, or attend an upcoming Info Session: Monday, Oct. 7 at St. Stephen Episcopal Church, or Wednesday, Oct. 16 at Woodridge Neighborhood Library, both at 6:30 p.m.
My Sister's Place will become the fifth partner shelter site where Playtime operates. The others are: Quality Inn overflow shelter hotel, Days Inn overflow shelter hotel, Turning Point Center for Women and Children, and the District Alliance for Safe Housing's domestic violence shelter. At these locations, our vetted and trained volunteers provide a supportive presence and facilitate healing and growth through play. Each week we reach over 150 children, ages 6 months to 12 years, in spaces filled with toys, books, and other activities focused on building resilience and encouraging healthy childhood development.
If volunteering isn't an option for you, consider joining us for our annual Benefit of Play fundraising event on Wednesday, Oct. 23 at Hill Center at the Old Naval Hospital. Your support will help us continue to grow through partnerships with area shelters and bring trauma-informed play to more children experiencing homelessness.
Be a part of a growing nonprofit providing positive, healthy childhood experiences for children in our community who deserve the right to play!