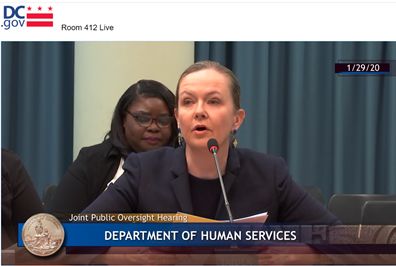 Children and families represent about half of District residents experiencing homelessness each year. Hundreds of children—infants through teens—enter the family shelter system lugging the baggage of risk factors that weigh down their resilience to reach their full potential. The District of Columbia spends millions of dollars annually on housing families in need of shelter. Incredibly, the city does not invest in evidenced-based services to help children break the cycle of chronic homelessness.
On Wednesday, I testified before the city's Joint Performance Oversight Hearing: Committee on Human Services & Committee on Housing & Neighborhood Revitalization with a request that the city fund and place Children's Services Coordinators in each of its new Ward-based short-term family housing (STFH) shelters. This critical role is considered by experts to be best practice in a two-generation approach serving children and families experiencing homelessness.
Nearly half of the unaccompanied youth in D.C. who visit Sasha Bruce Youthwork have been in the homeless family system, suggesting their stays in family shelters have not helped prevent them from returning to homelessness as teenagers and young adults.
Significant political and financial resources have been put into the family system, and yet, virtually no specialized services for children and youth are offered in the city's overflow shelter hotels or STFH sites. Children's Services Coordinators would help ensure that the specific needs of children are met while under D.C.'s care. Our city cannot achieve its vision to end homelessness as we know it without investing in prevention and intervention for children now living in family shelter settings.
We know first-hand the benefit of such a position because of our work with Playtime families. We met a single mother with an intellectual disability raising four children under the age of five, two of whom were nonverbal children with autism. At no point during her year in shelter was she offered assistance enrolling her children in services they were entitled to under the Americans with Disabilities Act. Nor did her caseworker discuss her children's rotting teeth or notice how overwhelmed she was. Her family's needs clearly went well beyond housing. Our social worker helped walk her through the process of enrolling in the portfolio of services and supports her children needed, including Health Care for Children with Special Needs, Early Stages evaluation center, and the St. Coletta of Greater Washington School for children and adults with intellectual disabilities. We made sure bus transportation to St. Coletta would continue after they moved into transitional housing and met with their new caseworker to ensure the family's progress could continue.
More recently, we met a mother with a history of trauma, bipolar disorder, and depression, who had received no response after seeking mental health services for her six-year-old daughter. Despite the child's history of sexual abuse and talk of self-harm, the shelter only offered them a Rapid Rehousing voucher. Within a month of working with Courtney, Playtime's social worker, the family moved into a specialized domestic violence shelter, was connected to the child's school social worker, and was put on several waiting lists for counseling. While they waited for ongoing mental health services, Courtney offered one-on-one counseling for the child and provided coaching to the parent for what to say when her daughter expressed thoughts of self-harm. Courtney also provided home visits, books, and tools to help mom at home.
Though this child was in the epicenter of adverse childhood experiences (ACEs), her mother's cries for help were ignored by the District of Columbia's entire human services infrastructure. Fortunately, Courtney was able to provide the critical support in this case that a Children's Services Coordinator would take on.
Stabilizing the child means stabilizing the family. Stabilizing the family puts parents in a much stronger position to obtain and retain stable housing. And that increases the chance of each child breaking the cycle of homelessness. We hope the District will prioritize these critical positions to strengthen their commitment to being a leader in turning the tide on the nation's family homelessness crisis by investing in prevention.