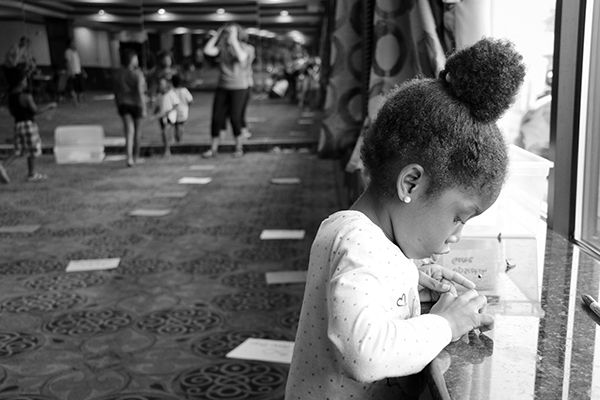 We are deeply saddened and troubled by the recent news of the death of baby Makenzie at the Quality Inn on New York Avenue, which serves as one of the city's emergency overflow family shelters.
The news prompted Playtime's Managing Director to ask the question: "Does a child always have to die to put these kids on the map? For these children to stay on our radar?"
Sadly, we are reminded of Relisha Rudd, who was an eight-year-old Playtime participant before she went missing from D.C. General Emergency Shelter in 2014. She has yet to be found.
The tragic death of an 11-month-old should be yet another wake up call for the city that families experiencing homelessness are in crisis and desperately need services that focus on the unique needs of children.
I recently testified before city Councilmember Brianne Nadeau at the Department of Human Services Performance Oversight Hearing to encourage the implementation of Children's Services Coordinators in every short-term family housing site across the District. Having such a role in all shelter settings is considered by experts in the field to be best practice in a two-generation approach serving children and families experiencing homelessness.
Upon a family's entry to shelter, children and youth would receive their own needs assessment and service plan, which would identify any needed referrals for services and connections with schools and other community-based supports they need. Ultimately, each family would have access to the help of an additional expert looking out for the children and guiding parents toward needed services.
Had there been someone in this role at the Quality Inn, enrolling families of young children in evidenced-based Home Visiting services for example, could this tragedy have been prevented? We believe the lack of comprehensive support services in shelters for families may well have contributed to the death of baby Makenzie and the loss of our dear Relisha.
For the past six years, the sign posted in the stairwell of the Days Inn, the District's largest shelter site for families reads, "No Playing on the Premises." What does that say about how we value children? Children have been seen doing homework and riding their scooters under the nearby freeway overpass.
And shockingly, the city's recent transportation program to help children in the motel shelters get to school is set to end this month, because our wealthy city can't figure out how to keep funding it for 3 ½ more months. As the city makes plans to close both of the overflow shelter motels this year, families are expressing concern over where they're going to go, and do not feel like they have the case management support to find their footing.
We must, as a community, prioritize the needs of children and support their parents accordingly – And those living in the city's shelter system deserve to have access to all the supports they need. Too many children are slipping through the safety net. We as a community have got to make our safety net more secure for the District's most vulnerable children.