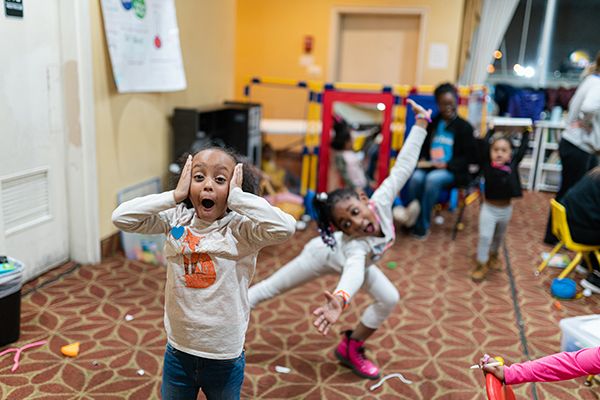 Photo credit: Ryan Maine
"Annie" places an apron over her dress and grabs a police hat for good measure. "I'm cooking dinner," she says, and throws some vegetables in a pot. "Rodney" dons a chef's coat with red trim and a matching white hat. He joins Annie at the stove and places a chicken leg into a frying pan.
Annie, 6, and Rodney, 5, are just pretend cooking in the playroom at My Sister's Place, one of our partner shelter sites. The pair are lost in play with our kitchen set. In the center of the room, two brothers tumble on the rug pretending to be wrestlers, and near the opposite wall a volunteer pushes a little boy on a ride-on Thomas the Tank Engine.
Play takes a variety of forms, depending on the child. But for a group of children, play takes space.
We launched play programming at My Sister's Place in January, and next month we'll expand to The Horizon, D.C.'s Ward 7 short-term family housing (STFH) facility.
As the landscape of homelessness in the District has changed, so have we. Since our founding in 2003, Playtime's central focus has continued to be providing age-appropriate play experiences for children in shelter. We started with a handful of volunteers in one playroom in one shelter and now provide multiple programs with more than 200 weekly volunteers in five different shelters. While each setting is different, one aspect remains the same: shelter bedrooms are cramped, and all children deserve the chance to spread their wings and run around to play.
Though D.C. General – the District's largest emergency shelter until it was closed in 2018 – was not an ideal facility for families, the city allowed us to use much of the space on the first floor to create three playrooms for specific age groups. We had large permanent spaces where we could lead a variety of activities and children could spread out while they played. But large shelters like that are gone, and rightly so. The city's new STFH sites create a cozier atmosphere, but they lack designated, spacious indoor play areas for children. Puzzles, block construction, art projects, dress up, dancing and indoor basketball takes space. Conflict can arise when kids try to play freely in close quarters.
When we established play spaces in the overflow shelter hotels along New York Avenue, we created what we call "pop-up" Playtime. For example, at the Quality Inn shelter we provided play from January 2017-December 2019 and were allowed use of the ballroom where we had lots of space to spread out but couldn't leave the toys in place. Before every session, volunteers hauled the toys out of the closet and set them up around the room and at the end of the night after the children had gone, we put everything away. It wasn't ideal, but we accommodated to ensure the children got time to play.
We are grateful to our partners Turning Point Center for Women & Children, DASH (District Alliance for Safe Housing), and My Sister's Place, which have permanent playrooms filled with activities and toys we don't have to pack away each night. As we follow the children across the city, we continue to adapt.
Often we are asked why we're not in all the STFH facilities. The answer is: most of them don't have the square footage needed to facilitate play. However, as the new shelters open, we are visiting and considering them all. So far, The Horizon has the most space for us to create a meaningful play experience for the children. As we make plans to enter the Ward 7 site, we will be adjusting to an environment with a community room on each of the four floors (children and families are not allowed to move between floors). This means replicating four play sessions and recruiting enough staff and volunteers to ensure each floor is always covered. We're excited for the challenge and to be in Ward 7.
Studies show that children experiencing homelessness have higher levels of emotional and behavioral problems; are at higher risk for serious health problems; and are more likely to be expelled or drop out of school.
Playtime's goal is to ensure this vulnerable population gets equal access to play for their developmental growth, for stress reduction, and for their resiliency. Your ongoing support gives children experiencing homelessness equal access to play!