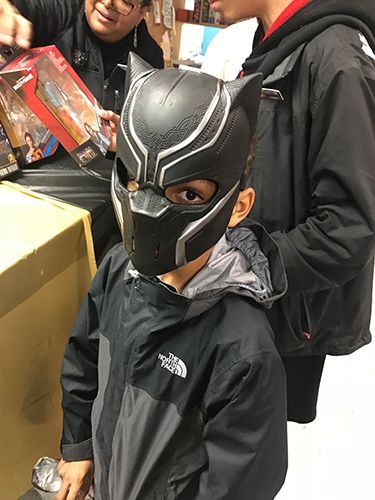 While the country is struggling to cope with a pandemic, racial injustice, and an economic crisis, communities of color are taking the brunt of much of the loss. African Americans are dying from COVID-19 in disproportionate numbers, peaceful protesters against racist police violence are demonized as anarchists, and Black and Brown workers face higher economic and health insecurity than White workers.
And on top of all this, lately it feels like we're losing all our Black heroes. In recent months, we've lost Little Richard, the rock n' roll pioneer; John Lewis, civil rights leader and longtime congressman; John Thompson, the legendary college basketball coach at Georgetown University; and many more. The most shocking was actor Chadwick Boseman, a Howard University alum who portrayed some of our greatest Black icons, including Jackie Robinson, Thurgood Marshall, and James Brown.
When the movie Black Panther was released in February 2018, starring Boseman in the lead role, Playtime—with the help of 18 volunteers—took 30 preteens and teens to the Lockheed Martin IMAX Theater at the Smithsonian National Air and Space Museum. We were especially grateful to our preteen volunteer, Rachel Renee Russell, who sponsored the transportation and purchased posters, masks, and toys for a party back at one of the shelters.
The kids were beyond excited! The film featured a majority Black cast as leaders and superheroes—faces that reflected their own. It was all they talked about on the bus ride home and at the after party.
One child was especially obsessed with Black Panther. An immigrant from an African country, the boy spent much of his time drawing the superhero; at Halloween, his costume request was Black Panther; and when it was time for his holiday wish list request, he wanted a Black Panther toy.
In the year following the movie's release, so many Playtime children wanted to dress up as various characters from the film. They could see themselves as the powerful and smart leaders of Wakanda—a fictional nation in Africa, yet one that came alive in the hearts of many African American children. We can't under estimate the power of seeing strong Black images on film for our youth.
We have lost our King T'Challa, but Boseman's performance inspired Playtime youth to see themselves as more than where they live and sparked their imaginations for who they could become. He gave them hope for a future where Black people not only thrive but excel.
At Playtime, we strive to do the same! We see and feel the losses our children experience too often in their young lives and will continue to use the power of play to inspire their resilience and optimism during a time of great loss.