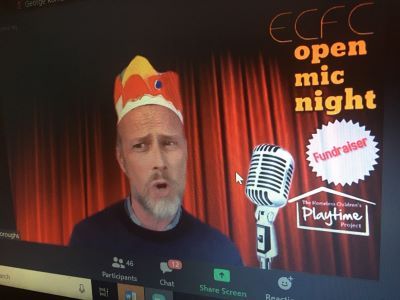 When Covid-19 closed Playtime's office and playrooms in mid-March, it also shut-down our 2020 plans for fundraising events. For this year, we had imagined shifting from one large event to a series of small, fun, individually hosted events that might be more playful. But then the pandemic hit.

At first, holding any event seemed out of the question, but as we've all done, Playtime shifted our everyday operations online and soon realized the potential of online fundraising events. We've been thrilled at the results of our first few virtual events to benefit Playtime families!

Thank you so much to Rotary Club of Capitol Hill, CNA Educational and Charitable Fund Committee (ECFC), and Playtime board members and major donors: Char Beales, Jan Piercy, and Elizabeth and Ty Voyles, who have used the technology of Zoom, email, and online giving to raise nearly $15,000 for Playtime children this year.

From Open Mic Night to Crazy Family Zoom (including a scavenger hunt and charades for kids), from weekend brunch to weekday lunch, from five participants to 50, these generous hosts have demonstrated how flexible and fun a virtual fundraising event can be. We're thrilled to have several more online gatherings in the works in 2020, including a larger corporate event thrown by Fulcrum Properties Group and the Fulcrum Foundation and Saydam Properties Group. 

We greatly appreciate our virtual event hosts—your parties will make a real impact on children and families living in shelters in Washington, D.C.

During this time of social distancing and as we approach the giving season, hosting a virtual event is an ideal way to rally your network of family, friends, coworkers, clients, and more to support a local cause close to your heart. 
Visit our website for tips and information on how to host a successful virtual fundraiser for Playtime, or contact Development Director Brandi Stanton at brandi@playtimeproject.org.
The possibilities for these events are limited only by our imaginations!