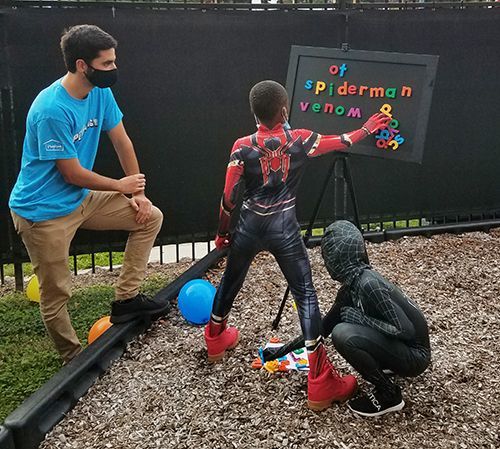 Earlier this year, "Keith" bounded into the hotel shelter's pop-up playroom, his energy bouncing off the walls. The 7-year-old whirlwind often had trouble settling into an activity, which could be disruptive to the other children, so Playtime staff worked to find what would engage him. When a volunteer gave him a series of dry-erase mazes to complete, he immediately set to work, proudly announcing when he completed each one. We discovered his strength was working on structured, challenging activities.

Staff gave him a corner where he could play games and build Lego sets one-on-one with a volunteer. As a child from a big family, Keith loved having his own space and attention. He developed close bonds with program staff and his dedicated volunteer, and became comfortable enough to talk about his life—he shared when he needed a snack because he hadn't had much to eat that day.

Through persistence and creativity, Playtime makes a difference for each child by forming a strong connection with them and tailoring play activities to fit their needs. Building these relationships is key to assessing how best to help our Playtime children and families and keeps us informed of their most pressing needs, including emergency supplies, resources, and developmental play activities. Now that we are back on the playgrounds, piloting weekly in-person outdoor programming at two of our shelter sites, we have the opportunity once again to give parents a break and provide pent-up children safe opportunities to strengthen social-emotional skills and bond with our staff, volunteers, and each other.

We are especially proud that in October, we launched programming at the city's new Ward 8 short-term family housing site, The Rolark, which has a big, spacious playground and a beautiful community room we're excited to use when it's safe to move indoors. Thirteen children attended our kick-off event, an incredible Step Afrika! workshop, and 20 children came to our Harvest party to enjoy festive activities dressed up in costume. Now, three times each week, children wearing masks in small groups have the opportunity to build self-confidence, solve problems creatively, and develop new friendships outside on the playground. 
As we enter November, with politics and the pandemic swirling around us, we are launching our annual year-end appeal to help us expand programming to reach more children next year. Your support will ensure more children and youth benefit from the ​powerful effects of play, which are integral to brain development, emotional regulation, relationship-building, and ​preserving a sense of normalcy, during a time that feels anything but normal.
Your ongoing support gives children like Keith a supportive and safe space to play for the holidays.