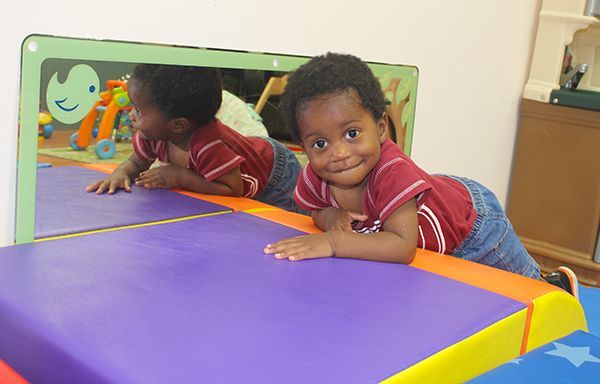 Without advocacy, there would be no Homeless Children's Playtime Project. Eighteen years ago, we had to advocate for our first shelter-partner sites to allow us to set up playrooms and run play programs at Community for Creative Non-Violence, DC Village, and DC General Family Shelter. We're used to getting told "no," whether it's asking for additional program space to serve more children at DC General or pushing to serve more age groups at the overflow shelter hotels.
But we also hear "yes." Our long fight to build a playground at DC General, where 600 children lived at its peak, was ultimately successful in 2014. Providing transportation to the hundreds of schoolchildren living in a transportation desert in the emergency overflow hotel shelters along New York Avenue NE, in 2019, was a big victory.
Amidst these high-profile efforts, we never lose sight of our mission to create ongoing opportunities for play at our six sites and to ensure that we support Playtime parents, so they have access to what they need to provide for their children and build stability for their families.
A lot of our advocacy work involves connecting families to resources—organizations, laws, benefits, and key figures—in order to make sure their needs are met, rights are respected, and families have an ally in the process. It is difficult work with many obstacles. "Jacob" had recently enrolled at Playtime. Confined to a wheelchair only months before, Jacob didn't let anything stop him from playing with the other children, but his mother was very worried about enrolling him in school this fall. On top of that, she was juggling physical therapy appointments with looking for housing, employment, and child care for Jacob and his sister. Playtime was quick to spring into action to help this family on multiple levels, for example, informing her of the family's education access rights through the McKinney-Vento Act and researching housing with access for people with disabilities. We hit barriers immediately, when it became clear all specialized housing programs were for adults with disabilities only, not children.
In the advocacy space, there is rarely an automatic win at the end of the day. An injustice is not always fixed by 5 p.m.; D.C. Council has not unanimously voted in favor of bill that includes services for children we suggested; and developers are not held accountable for monopolizing quality housing for those who can most afford it. But Playtime continues the work that we must do to remove barriers for children. Right now we're working on asking DC to improve data collection to better meet children's needs in the homeless services system and working our way through the Prince George's County government to strengthen education access.
Playtime's new Advocacy Director, Allan Rogers, using the power of our new advocacy coalition we created with DC Action for Children, is working with me to build on 18 years of small but important victories. Through dozens of weekly phone calls, Zoom meetings, and emails, we're gathering data on school barriers and communicating to the organizations and government agencies that can effect change. Whether it's addressing the need for more children's services in shelters and Rapid Rehousing programs, better coordination of services, or a greater focus on prevention system-wide, we take action. With Playtime's families and partners, our long-term goal is to break the cycle of family homelessness, making sure all children have the opportunity to play, learn, and grow in safe spaces.