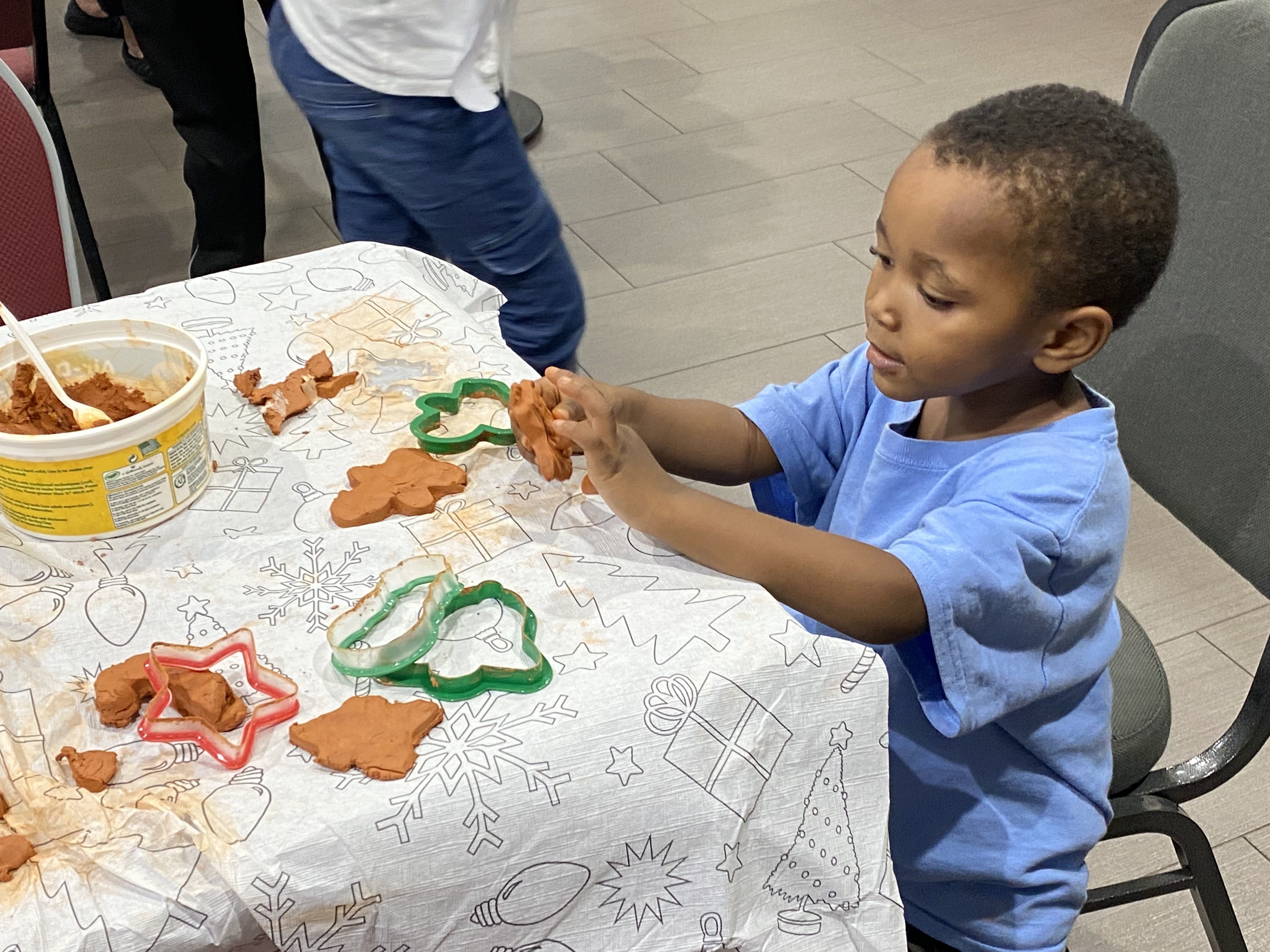 Welcome to the New Year — a year filled with exciting changes for Playtime! First, I want to thank the individuals and donors who contributed more than $120,000 to our year-end fundraising campaign! 2021 continued to challenge us to find new ways to stay connected and serve those in need. Playtime was able to make an impact by serving 315 children and their families in 2021 because of you.
The outpouring of support from so many of you was both overwhelming and humbling. You allowed us to serve children weekly at five sites, including expanding to serve families in Prince George's County, Maryland. Six months ago, we marked our expansion into Maryland with twice weekly Playtime at Shepherd's Cove and, last month, "Pop-Up" Playtime events at two Prince George's County shelters, including the Safe Passages domestic violence shelter and the Warm Nights shelter in Beltsville, Md. Families enjoyed making clay ornaments, snow globes, drawing together, and taking family portraits. Playtime also gave children Playtime to Go play kits filled with toys, activities, and books and distributed diapers.
In addition to expanding to Prince George's County and running our usual sites, we held four other community pop-up play events in D.C.; helped run a summer camp at a recreation center; delivered emergency supplies for families; provided back-to-school supplies, costumes, and personalized holiday gifts; and continued to distribute Playtime to Go kits to children in shelters across the city.
I was especially moved by a 7-year-old Hyattsville resident who decided to donate the "share" portion of her allowance to Playtime this year. Her mother said she had a "blast" picking out books from our Amazon Wish List, many of which were her favorites. These books went straight into our play kits to ensure children have access to impactful stories with characters that look like them.
I also want to give a special thank you to Jonathan and Sarah Bresler, Phyllis and Sidney Bresler, and the Robert I. Schattner Foundation for donating $25,000 to Playtime as a Giving Tuesday matching challenge, inspiring other Playtime supporters to raise $25,000 on the day. And to the hundreds of you who thought of Playtime and included us in your end-of-year-giving, we are sending a heartfelt thank you for helping us reach our 2021 goals!
I am grateful to our many supporters who entrust us to provide quality play programming for children experiencing homelessness, and I appreciate the Playtime volunteers and staff who continue to adapt to meet the needs of families in the nation's capital and surrounding areas.
Our 2022 plans are focused on expanding and deepening our impact, to ensure more children can safely access more opportunities for play, resources, learning, and growth in the New Year. As the year goes on, be sure to keep an eye out for ongoing updates as we roll out new program plans. Thank you again for continuing to support the vast-reaching power of play!