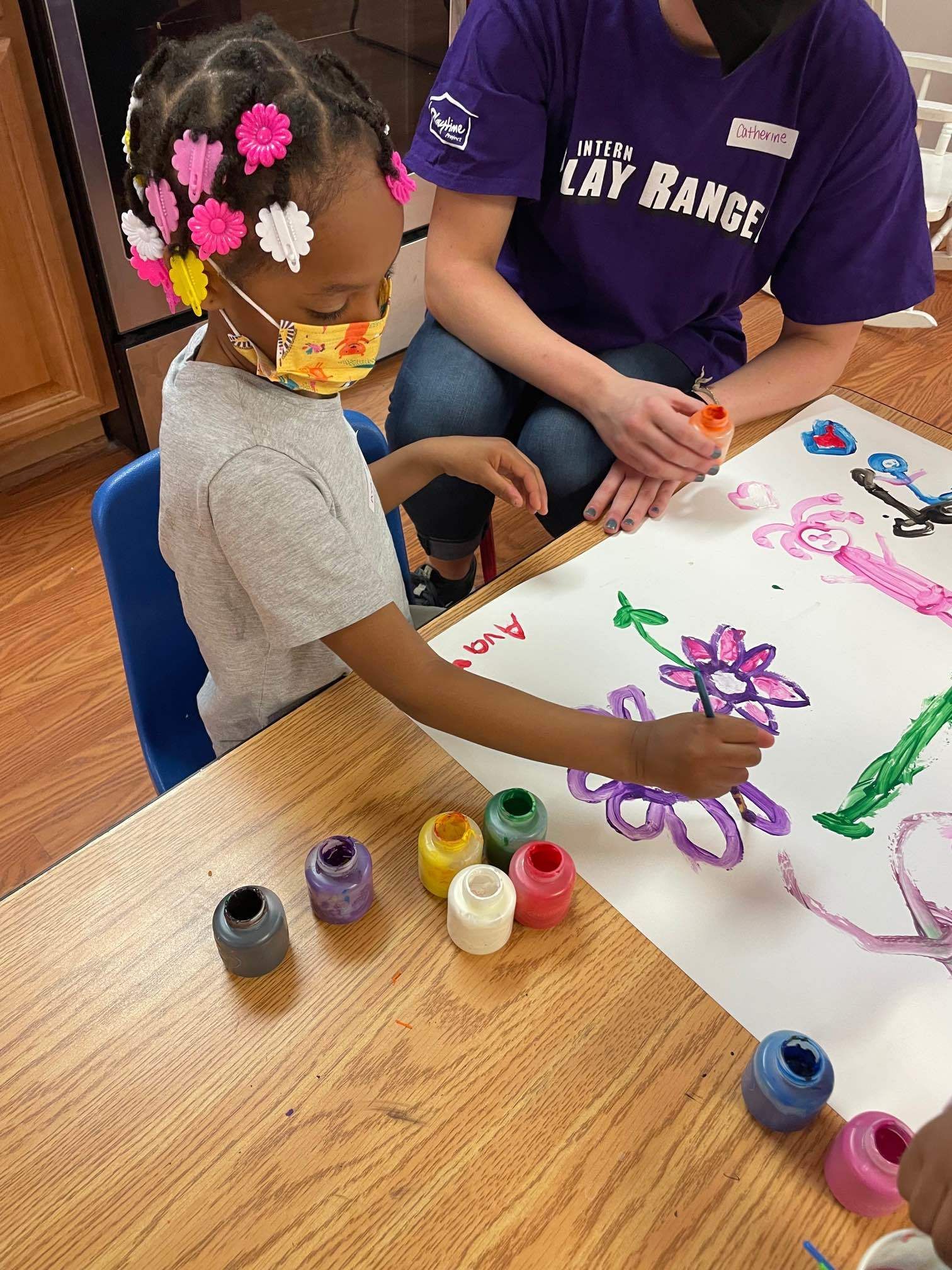 The month of May is known for bringing springtime weather and beautiful flowers, but it is also Mental Health Awareness Month. Each year, millions of Americans face the reality of living with a mental health condition. Playtime is proud to be part of the national movement to raise awareness about mental health and mental health-related issues. According to the Substance Abuse and Mental Health Services Administration, children experiencing homelessness are more likely to experience depression, substance abuse, and mental health problems. Without the right support, many will struggle with homelessness their entire lives, making prevention of and intervention in mental health crises essential to support long-term housing stability. 
Last month, we brought you the story of how Playtime has been working with our pre-teen girls at Shepherd's Cove to navigate friendships and confront bullying behavior at the shelter. Bullying can have a devastating impact on children's mental health, and we want to equip the children and families we serve by addressing it head-on. Playtime staff and volunteers don't just play with children, they frequently talk to them about their behaviors and emotions to help them work through and process challenges happening in their lives.  
Having a safe and trusted space to talk about and process emotions and life's occurrences is important for a child's mental health. Through intentionally designed curriculum activities, Playtime participants develop their social-emotional learning skills. In April, our curriculum explored children's strengths and superpowers through superhero-themed curriculum activities. Children enjoyed activities focusing on Spider-Man, Teenage Mutant Ninja Turtles, and the Avengers. They created Self-Affirmation Shields, exploring their unique strengths, talents, and sources of protection and support in their lives. There was also an Incredible Hulk smashing activity, that allowed children to "bust through" their fears. Children wrote their fears in invisible ink on toy bricks and built a wall that they then smashed their way through. 
"Tyler," a quiet, eight-year-old boy at Shepherd's Cove was encouraged to write something on his brick, but he was resistant. Playtime's Quality and Impact Specialist, Lan Nguyen, told him that was just fine, they would simply decorate their bricks. Tyler was quiet for a while, and then he whispered to Lan, "I have something." Lan asked if he'd like to talk about it or write it. He quietly described being very frightened in a house with his mother one time when he was six years old. "Was it scary?" Lan asked. "Yes, like a haunted house," Tyler replied. "Do you want to put it on a brick?" Lan suggested? He wrote "haunted house" on his brick, and they looked at the invisible ink, made visible with UV light. Once the children had built their wall, Lan turned to Tyler and said, "Think about the haunted house.... Ready to SMASH it?" Tyler burst through the wall with tremendous energy and volume, releasing some of his scared feelings in a safe space, with a trusted adult by his side. Playtime's curriculum supports mental health by creating opportunities for children to express and navigate their emotions in healthy ways. 
Lan explains how our curriculum activities are designed to support children's mental health. "It's not easy being a child with so many pressures we didn't have growing up, and to add homelessness onto that can cause extra stress, shame, and anxiety. We want to fortify our children's social-emotional toolbox with the language skills and self-awareness they need to advocate for themselves, monitor their self-talk, and boost their confidence. Playtime gives children practice developing friendship skills and being good friends to themselves as well. We integrate life skills into our activities that we hope will plant seeds that will bloom long after they leave the shelter." 
Playtime is committed to supporting families and their mental health. Both bullying and mental health resources were included in our two most recent monthly parent newsletters. Playtime also provides parents with valuable respite during evening program hours. The few hours that parents get to themselves during evening Playtime can have a positive impact on their mental health. Parents often thank staff for "time to rest and run errands" or "a couple of quiet hours." A resident assistant at Shepherd's Cove may have summed up Playtime's impact on the families' wellbeing when she said that "the entire shelter is calmer when the children are at Playtime." 
Playtime's supporters help staff and volunteers make a positive impact on the mental health of children and families experiencing homelessness and housing insecurity all year long. We hope you do something for yourself this month in honor of Mental Health Awareness Month!