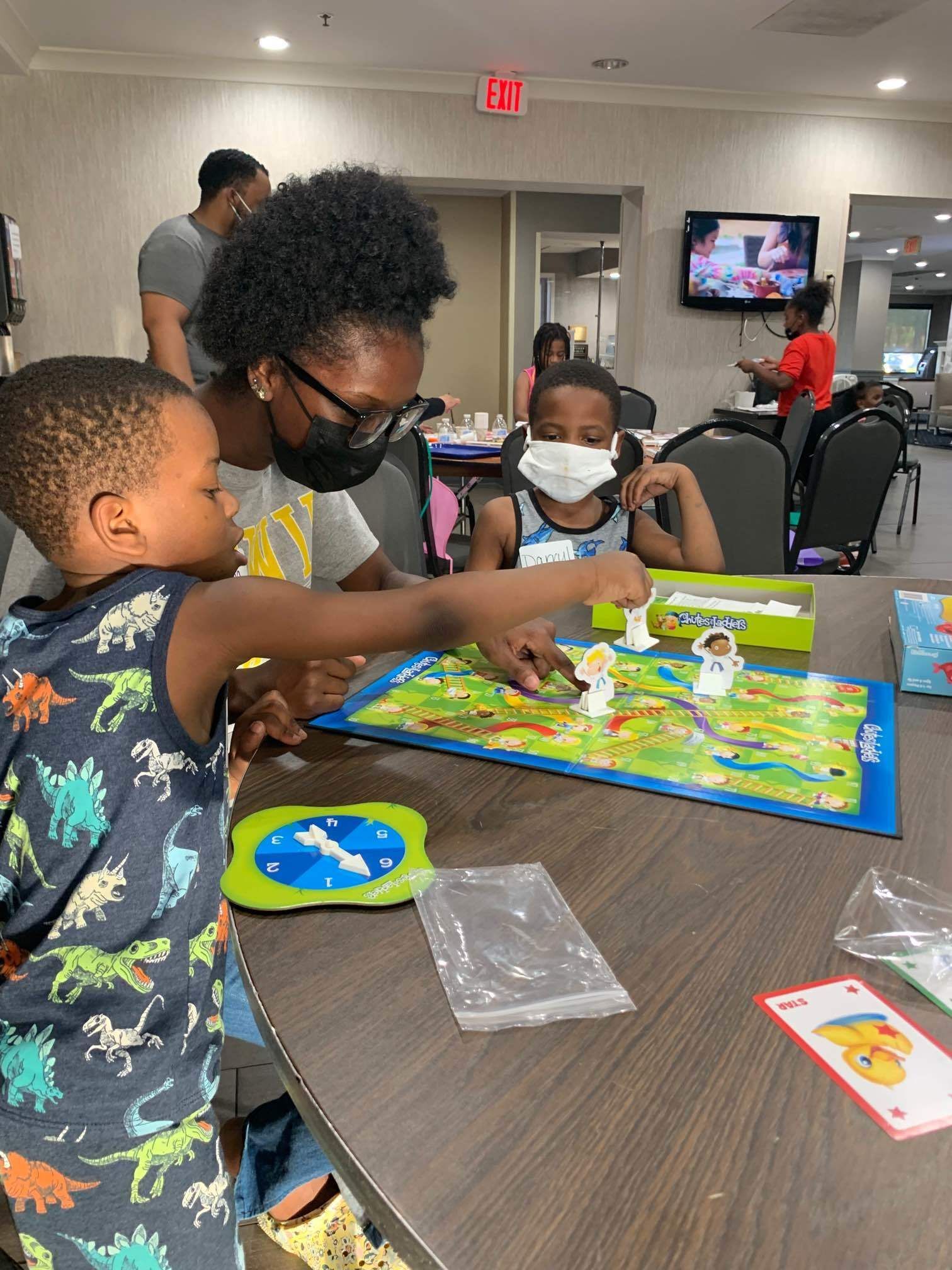 Last November, we introduced you to "Jacob," a Playtime participant adjusting to life in a wheelchair after being injured by a stray bullet in 2021. At the time, he was living at Shepherd's Cove Shelter for Women and Children in Prince George's County, Md., with his mother and little sister. After almost a year living in the shelter, Jacob and his family moved into their own apartment last month.  
While it's always good news when families move out of shelters and into their own homes, it is important to recognize the sense of community families create while living in transitional spaces. When Playtime Executive Director and Co-Founder Jamila Larson asked Jacob how he felt about moving as they unpacked his toys, he said, "I'm grateful for our new apartment, but I miss my friends." Moving out of a shelter into a new place is exciting, but it can also bring a new level of stress and sense of isolation. Families often lose the only support system they had while living there; they leave friends behind, as well as shelter staff who may have been helping them find transportation or providing counseling. They are now on their own and tasked with adjusting to and dealing with the long list of necessities that come with setting up a household.  
During follow up visits with Jacob's family, Jamila made sure he and his sister had swimming suits and life vests so they could safely swim in the pool at their new apartment complex. Jacob's mom also received help with getting connected to the local recreation center to sign her children up for summer camp. Playtime assisted Jacob's mom with the little things, like making sure she has a shower curtain for the bathroom.  
Unfortunately, it is not uncommon for families to return to shelters after moving out. The reasons may differ, but oftentimes, a lack of services plays a huge role. Families often need ongoing support to navigate the new challenges of life outside of the shelter, and sometimes they just need to know who they can ask for help. For Jacob's mom, she also must juggle this major life change with Jacob's physical therapy appointments, a job search, and childcare needs.  
Playtime's Shepherd's Cover site partner, United Communities Against Poverty (UCAP), offers families unique assistance that parents and children at other shelters typically do not get — all families who move out are offered one year of post-transition case management. This is a critical tool designed to increase the families' chances of staying in their new homes and to connect them to services and resources in the community.  
UCAP reached out to Playtime to refer a 20-year-old mom, who is a domestic violence survivor, and her toddler. Playtime delivered a carload of Project Housewarming items (linens, cleaning supplies, groceries, etc.), a bin of baby books, and some clothes to the mom, for which she was so grateful. She recently lost her job and had spent her last paycheck on furniture for her new apartment and a water table for her daughter. Volunteers were also able to fix dangerous gaps on her balcony so that her daughter would be able safely play without accidentally falling through.  
After receiving referrals for three more families, Jamila and her neighbors are now organizing an ongoing initiative called Welcome Home Neighbor to coordinate volunteers and take about one referral per week from UCAP, to help families get settled in their new homes — an exciting new partnership between Playtime, UCAP, and community members in Hyattsville. 
Having access to coordinated case management and circles of support is essential to making sure families have allies during this transition period.  
Playtime is proud to serve on this collaborative team, which ensures a community of care for Jacob's family and the other children at Shepherd's Cove; and we advocate for comprehensive family-centered case management to ensure that all families receive services tailored to best address their strengths and needs. We will continue the fight to create a world where children currently experiencing housing instability do not have to be homeless when they grow up.