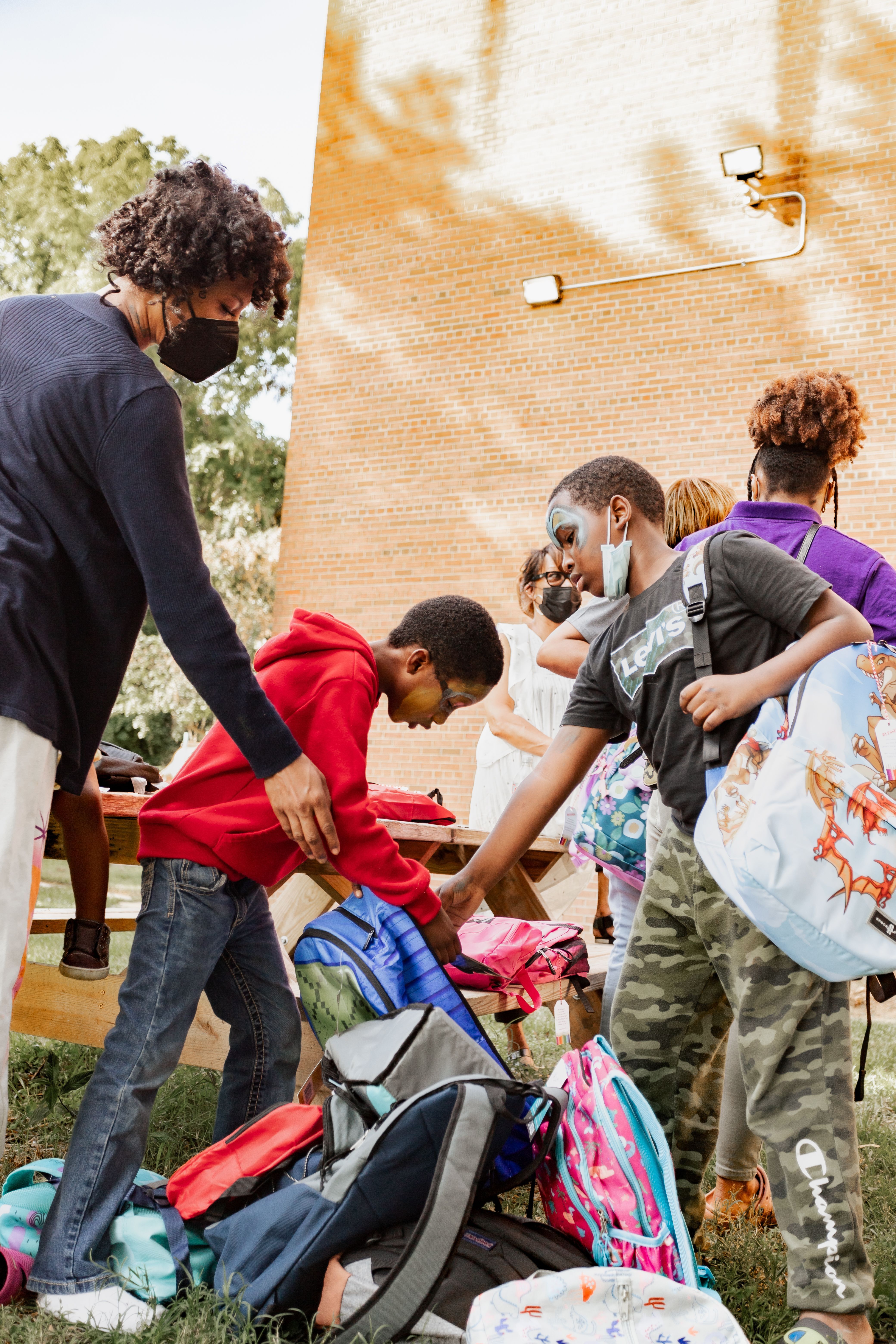 Earlier this week, thousands of children across D.C. and Prince George's County, Md., headed back to the classroom.  
In the 2020-2021 school year, the Office of the State Superintendent of Education (OSSE) counted 5,893 homeless children attending D.C. schools, including all students who "lac[k] fixed, regular, and adequate nighttime residence" and who are doubled-up. This number does not include children younger than school age, and it is during the Covid pandemic, which we know impacted the health, finances, and housing, not to mention school attendance of thousands of children in the region. 
Preparing your children to return to school is daunting for any parent, but it can be even more challenging for parents experiencing housing insecurity. Most parents need to obtain school supplies and uniforms, get necessary medical exams and immunizations, and figure out transportation. Parents living in transitional housing are often searching for a new job, and every new expense must be weighed against critical needs like food and diapers. Health records may be two bus rides away in a storage unit or at a home they left because it was unsafe. Children experiencing homelessness have lost their homes, friends, routines, and neighborhood, often after a traumatic and/or violent event, and parents must also worry about the impact of new schools on their children's health. 
Playtime aims to meet children's need for stress release, trustworthy relationships, and fun throughout the year, but back-to-school time has always meant additional resources to make sure children and families are supported. We're developing services like these into our continuum of care, where Playtime programs are at the shelter, but also out in the community, and Playtime can assist during important moments in their lives when support is needed to help break the cycle of homelessness.  
During an end-of-summer carnival at Playtime's partner site Shepherd's Cove, located in Prince George's County, Md., we distributed supply-filled backpacks to children and families at the shelter. After patiently waiting for his turn, 10-year-old "Ashton" was so excited to receive his brand-new backpack. "Thank you!" He continued, "It's Minecraft —I love Minecraft!" Theresa, mom of 7-year-old "Bryce" pulled a staff member aside to say, "This is a huge help since I haven't had time to get to the store to get his supplies. Thank you so much!"  
Last week, when an employee at Shepherd's Cove told Playtime staff members that some children at the shelter did not have uniforms for the first day of school, Playtime sprang into action and purchased uniforms. While delivering them to the shelter, a Playtime site manager ran into "Sonny" and his family in the shelter's cafeteria. "Playtime now! Playtime today!," Sonny exclaimed when he saw the familiar face. Sonny's mom shared with the site manager how he and his siblings enjoy Playtime and regularly shout "Playtime!" throughout the week, even on non-program nights.  
Our goal is to be a reliable presence for Playtime children and families, especially during times of high need, like back-to-school time. Playtime's support extends beyond the playrooms, and we could not pilot new community-based programs like "Pop-Up" Family Playtime events and Playtime Summer Camp without the support of our generous community. Thank you to all who support Playtime families. Follow us on social media to see your impact in the playroom every week! Facebook: @PlaytimeProjectDC; Instagram: @PlaytimeProject; Twitter: @ProjectPlaytime