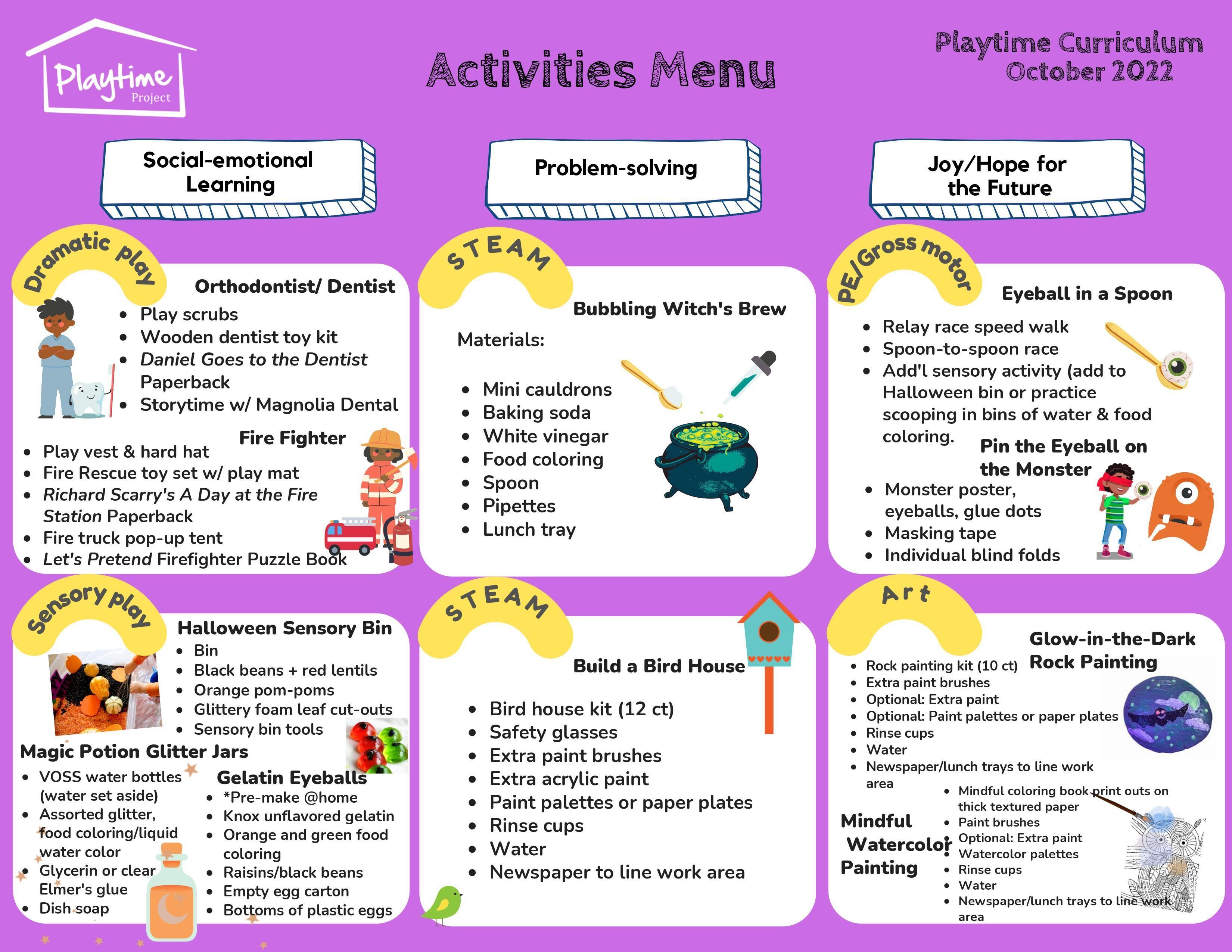 While visiting program recently, Playtime Quality Impact Specialist Lan Nguyen overheard several children expressing their desire to be dentists, and a play curriculum idea was born. As part of National Dental Hygiene Month, Magnolia Dental, a DC area pediatric dental office, will visit some of our playrooms in October for story time with the children. Each child will get their own dental hygiene kit. This timely visit aligns perfectly with one of the other activities Lan has planned for the October curriculum — using dental costumes, wooden dental kits, and dental-themed books, children will have an opportunity to learn about dentists and continue developing their social-emotional skills through dramatic play. 
Playtime's dynamic curriculum engages with and builds off children's current interests, with the goal of strengthening three outcomes for children aligned with resilience: increasing their problem-solving skills, social-emotional learning skills, and optimism for the future.  
Trained as a special educator, Lan has created themed "curriculum kits" site managers can choose from that are carefully curated to give children experiencing homelessness an opportunity to learn and explore new concepts. Each kit includes books, games, costumes, puzzles, and other reusable materials that are relevant to a particular theme.  
For example, Playtime's October curriculum features firefighter-themed curriculum kits that encourage children to learn all about firefighting. The kit is filled with firefighting costumes, a pop-up firetruck tent, and firefighting-themed books and games, all related to this important occupation. There's even a take-home firefighting vocabulary list with a QR code that links to a special firefighting song! 
The new curriculum kit system encourages site managers to "check out" kits that correspond to children's expressed interests, giving them valuable input into Playtime curriculum. We want children to know that Playtime hears them. It is our hope that Playtime nurtures a sense of agency and optimism for children and helps them to be able to see themselves beyond the confines of a shelter. Fun is always part of the equation, as this month's sensory activity gives children an opportunity to touch and feel gourds, fall colored beans, and make eyeballs with gelatin! 
Playtime is grateful for Lan and the program team's passion and contributions to our overall mission to cultivate resilience in children experiencing family homelessness.