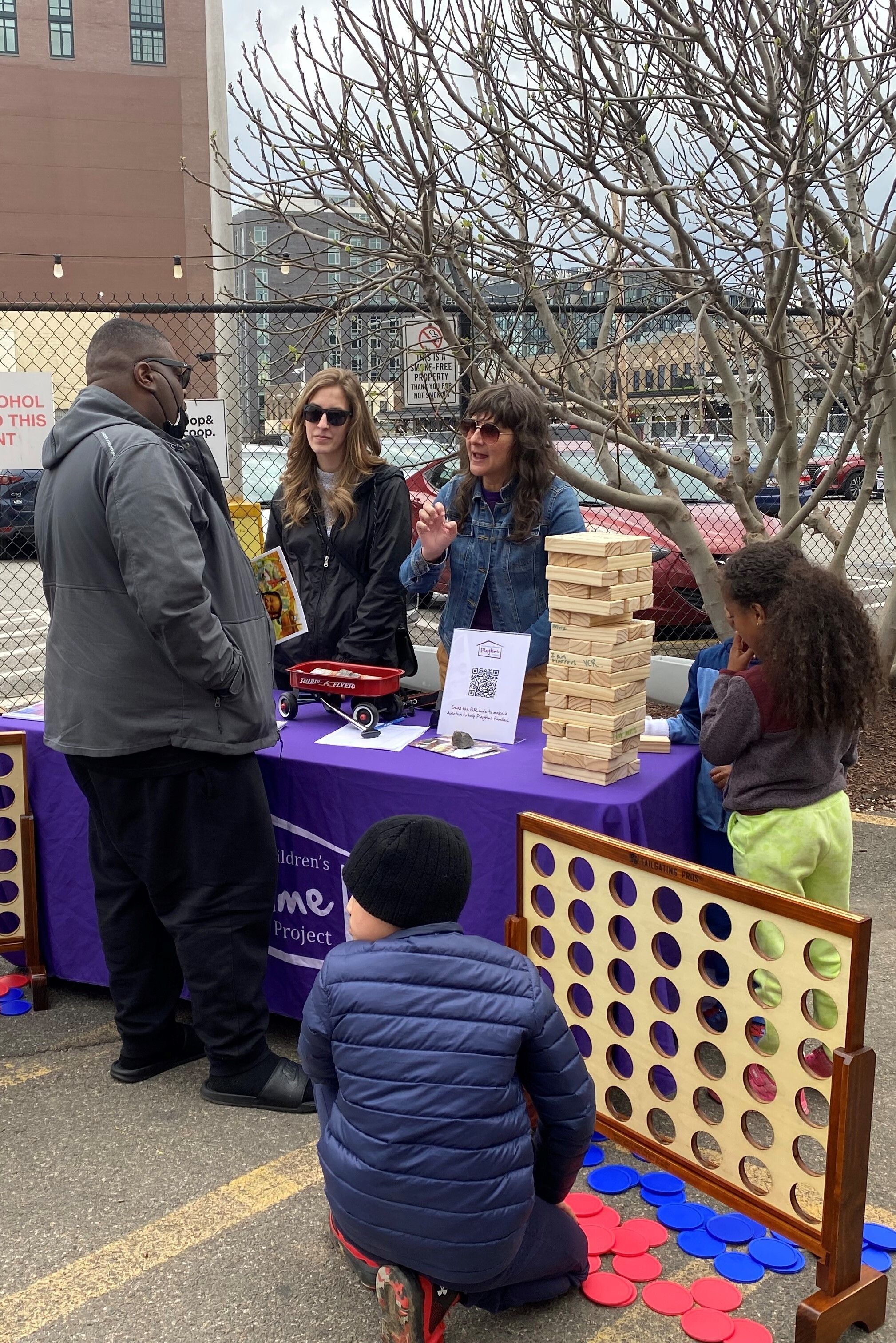 It is with a thankful heart I announce that my last day as Playtime's Development Director will be Friday, November 4, 2022. I leave the development team in our Development & Database Manager's very capable hands. I'm confident she will lead this transition, with our executive and managing directors beside her, until Playtime's new Development Director is on board.  
Every one of my many weeks in service to Playtime's mission I have been amazed by the dedication of this staff to supporting Playtime families. Executive Director Jamila Larson spent Mother's Day this year rallying volunteers from her neighborhood and physically moving a small family with a mother and two young children from the shelter to their new apartment. Our new DC Programs Manager took charge immediately, secured a formal partnership with three organizations, and starts a play program at our, now, largest site in the city in November: Columbia Heights Village affordable housing complex. Since he joined Playtime in October 2021, our Operations Manager has fostered no less than a dozen major partnerships with community organizations that can help serve Playtime families, including implementing "Pop-Up" events for Playtime families and donors. Playtime staff are laser-focused on serving children any way that they can and bringing the community together for Playtime families. 
Playtime's community of supporters allows Playtime to adapt—to the pandemic, to the changing landscape of homeless services, to families' current needs. Together, we have begun to create a continuum of care, engaging children and families during their time in shelters, at schools, during their transition to housing complexes. We're building trustworthy relationships and the capacity to respond to the extreme challenges Playtime families face. The individual families who approached site managers last week for winter coats; the parents who confide in our staff about concerns for their children's health and education; the hundreds of migrant children with no legal status currently sheltered in a hotel in northeast DC. Your support provides sustained access to play and emergency interventions that firm up the community's commitment to families. 
The work is difficult, but the impact on children and families is obvious every day. Here's a recent text from a 19-year-old Playtime parent and survivor of domestic violence, after receiving move-out support and toys for her child: 
"Amani" has been playing with these toys nonstop! I actually was able to do my chores. she hasn't been watching TV and just playing with her kitchen set. I know I thanked you but I honestly can't thank you enough! I usually give Amani 30 mins of screen time split into fifteen between two hours, but she was so busy with her toys and playing with me she wasn't even paying attention! I've been wanting to limit her screen time and she was acting like the baby doll was her baby and treating the baby the way I treat her! I love these toys so much. Thank you so much for everything you and your program do ❤️ - Text from Playtime parent, July 2022 
I heard these stories of appreciation every week. Playtime creates a safe space for families—to access play and resources, to talk about their children, to have some respite from their stressful routines. It extends beyond families in shelters.  
After almost four years at Playtime, leaving is bittersweet, and I am overcome by a sense of gratitude. I have had the honor of watching the Playtime community—YOU, Playtime's staff and volunteers, our board, partners across the region—come together and ensure children experiencing homelessness and housing insecurity continue to be served under the most extreme circumstances. The network of caring individuals, in all their various work, family, and neighborhood groups, is what makes Playtime possible. Thank you for your inspiring generosity. 
Please participate in Playtime's Gratitude Campaign this November. Give what you can to support Playtime-to-Go play kits, Holiday Wish List Gifts, Back-to-School supplies, regular play programs, "Pop-Up" Playtime events, emergency supplies, move-out support, and so much more for some of the most vulnerable families in our community. Giving Tuesday is on November 29th, during which we hope to raise $20,000 for Playtime families. Be on the lookout for volunteer and other giving opportunities during this season of gratitude. We're so grateful for your support. For all development related questions, please email development@playtimeproject.org.