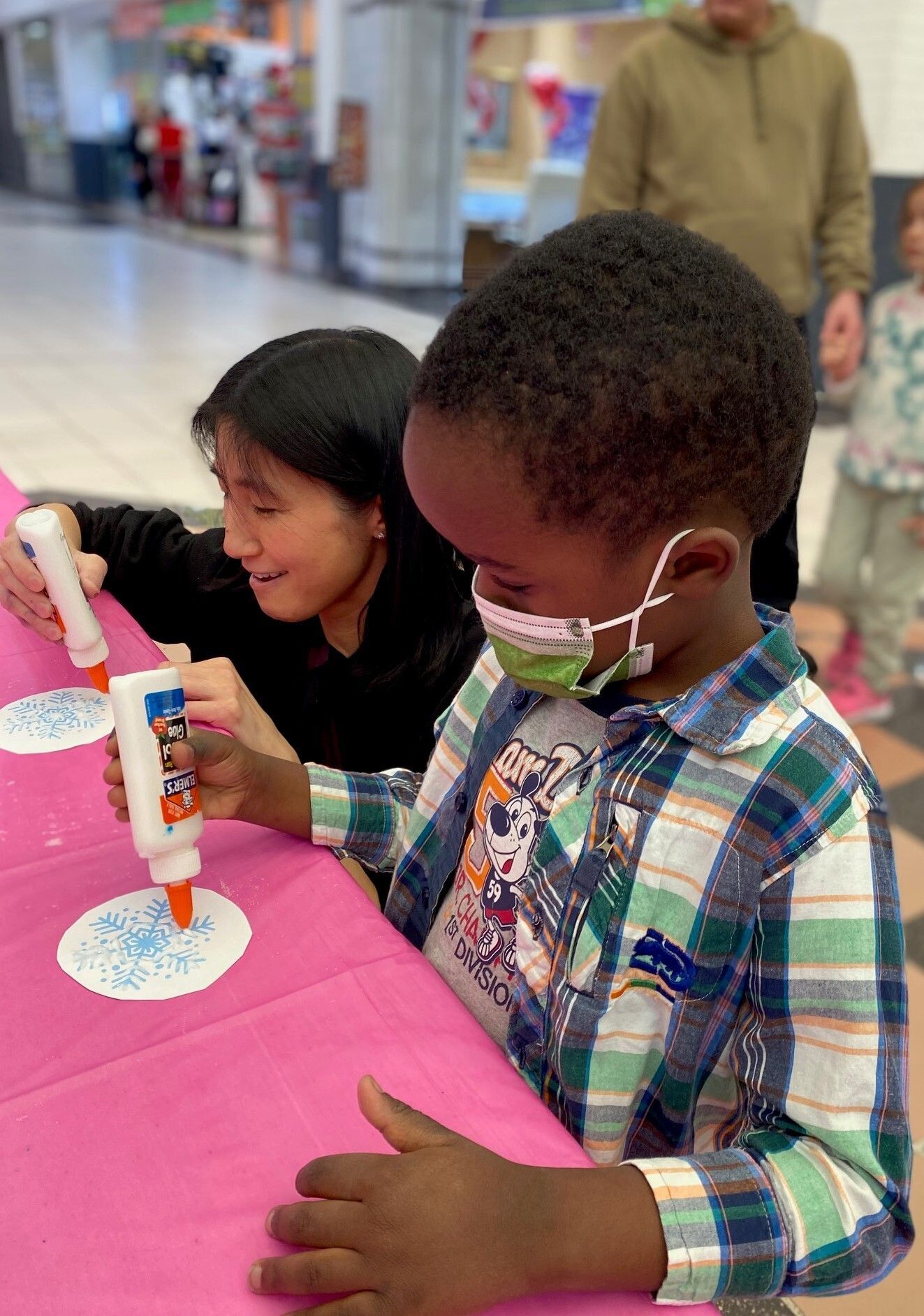 There is a lot of love at Playtime Project this month. The beginning of the year is always filled with excitement as we introduce and welcome back children to our programs. Playtime's physical boundaries—whether it's a playroom, a school auditorium, or a conference space—are safe spaces for the children who participate.
Now, a month and a half into 2023 programming, we're observing the children feel that safety, too. In large part, this is due to the positive energy and warmth that our staff and volunteers bring to each site, through their attitudes and activities, as well as the accepting spirit of the children who play with us.
This accepting spirit shined through at several sites in the past week.
In DC, one of our programs used paint to encourage children's creativity. After finishing the activity, one of the boys was inspired to paint his nails using the paint. The Playtime site manager and volunteer set such an inclusive tone that the only comment from the other kids was that he might get in trouble with his mom for making a mess. (No trouble was had, as we were able to clean up just fine.) It's important that children feel comfortable expressing themselves and being creative at Playtime without judgment.
At a site in Prince George's County, Playtime volunteers led the children through a paper snowflake-making activity. Volunteers helped them make connections between the unique characteristics of their snowflakes and their own unique characteristics, contributing to conversations about their own self-worth and building confidence. When one of the girls' snowflakes didn't turn out the way she'd planned, she asked, "Am I the worst?" Another child stepped in to reassure her. "All snowflakes are different, so yours just looks a little different." We love to see children internalizing the messages of self-confidence and individuality and then passing them on to their peers, as well.
At another DC-based program, children were playing a game similar to charades, where one child had to act out a very challenging word: battery. When it was his turn, he kept repeating how hard it was, but with the support of the volunteers and his peers, he kept at it. No one guessed correctly, but he kept a positive outlook and even commented to one guesser, "You were SO close!" A few weeks ago, he may have gotten frustrated and given up, but this week all his work at playtime really started to show. He was able to persevere in the face of a frustrating problem and handle the situation with grace. This important life skill is aligned with Playtime's mission to strengthen problem-solving skills.
Our hearts are warmed by these stories. But they're not just feel-good anecdotes; they demonstrate important social-emotional learning that is embedded into our trauma-informed lesson plans.
Inclusive environments allow children from all backgrounds to feel safe, and the ability to express oneself freely is essential for self-confidence. Regulating one's emotions and continuing to try, even when something is hard, is an important life skill, necessary for thriving later in life. Some might say we adults haven't mastered this yet. Playtime Project's relationship-centered environment where children are encouraged to practice life skills through play helps nurture creativity and confidence. We are honored to be able to provide that opportunity for play, and to support outcomes that are so significant to children's resilience.