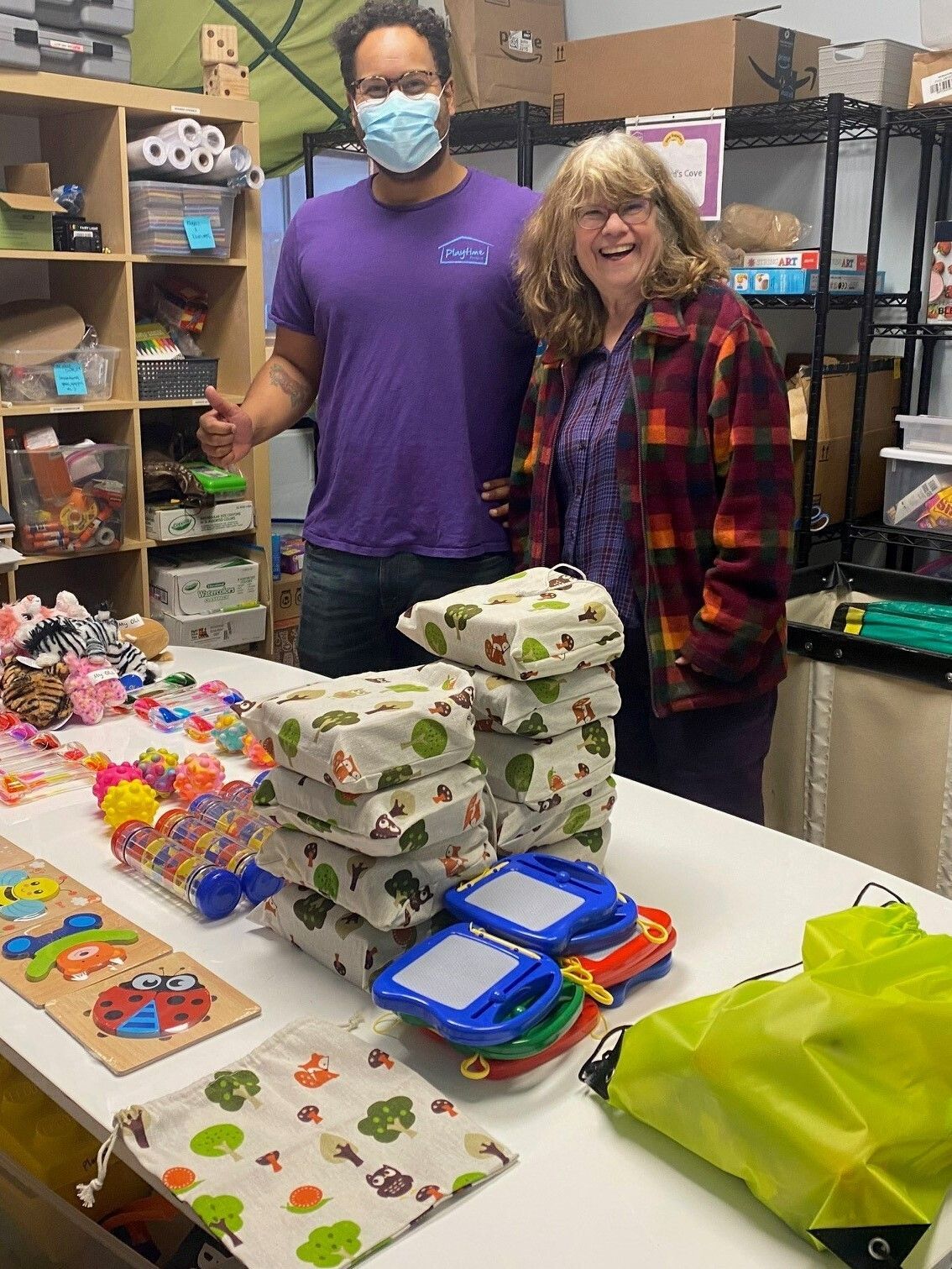 In the summer of 2020, the COVID pandemic suddenly changed the way nonprofits, including Playtime Project, could deliver services. With our programming being so grounded in physical proximity, we were faced with a huge challenge – how to continue delivering consistent, quality play experiences to children experiencing housing insecurity who could no longer gather together to play.
PlayKits became one of the solutions to this problem. PlayKits were not a brand new invention at Playtime, but staff expanded their use and further developed this service once the pandemic began. Playtime began regularly delivering PlayKits to each of our program sites and new locations like the Virginia Williams Family Resource Center, which is a starting place for families trying to get into DC emergency shelters. Families appreciated these special deliveries so much that Playtime has now made PlayKits one of our regular offerings; ramping up the number delivered, the variety of partners involved, and always deepening their quality. The idea is to keep children playing at home, wherever home is.
Each PlayKit includes a variety of intentionally selected toys and books for children and families and resources for parents, assembled with specific audiences in mind. For example, we partner with DC SAFE to deliver domestic violence PlayKits. These kits include resources for domestic violence survivors and toys and books that address trauma related to domestic violence. We've also made grief PlayKits for children who've experienced the loss of family members, that we most recently dispatched for siblings at one of our sites who lost their brother to gun violence. We're continually exploring new ideas, like Teen PlayKits focused on literacy, stress relief, and self-expression that include fidget toys, books, and journals.
New this year are PlayKits to include the entire family. That means giving parents/caregivers the tools and language to facilitate intentional play with their children, building on what we do at our in-person programs. Family PlayKits come with guided curriculum activities for parents to follow. Sometimes we include a QR code that links to a YouTube tutorial on the provided activity or game. PlayKits that consider the whole family create experiences that include parents' own self-care and stress relief through items such as adult coloring books and DIY coaster craft sets.
Playtime Project is proud to expand the ways in which we provide transformative play experiences to children and families through PlayKits. They offer a unique way to reach children and families so they can play, learn, and bond, wherever they are.
You can help us bring PlayKits to even more families! If you're interested in partnering with us to sponsor a round of PlayKits, please email jordan@playtimeproject.org.