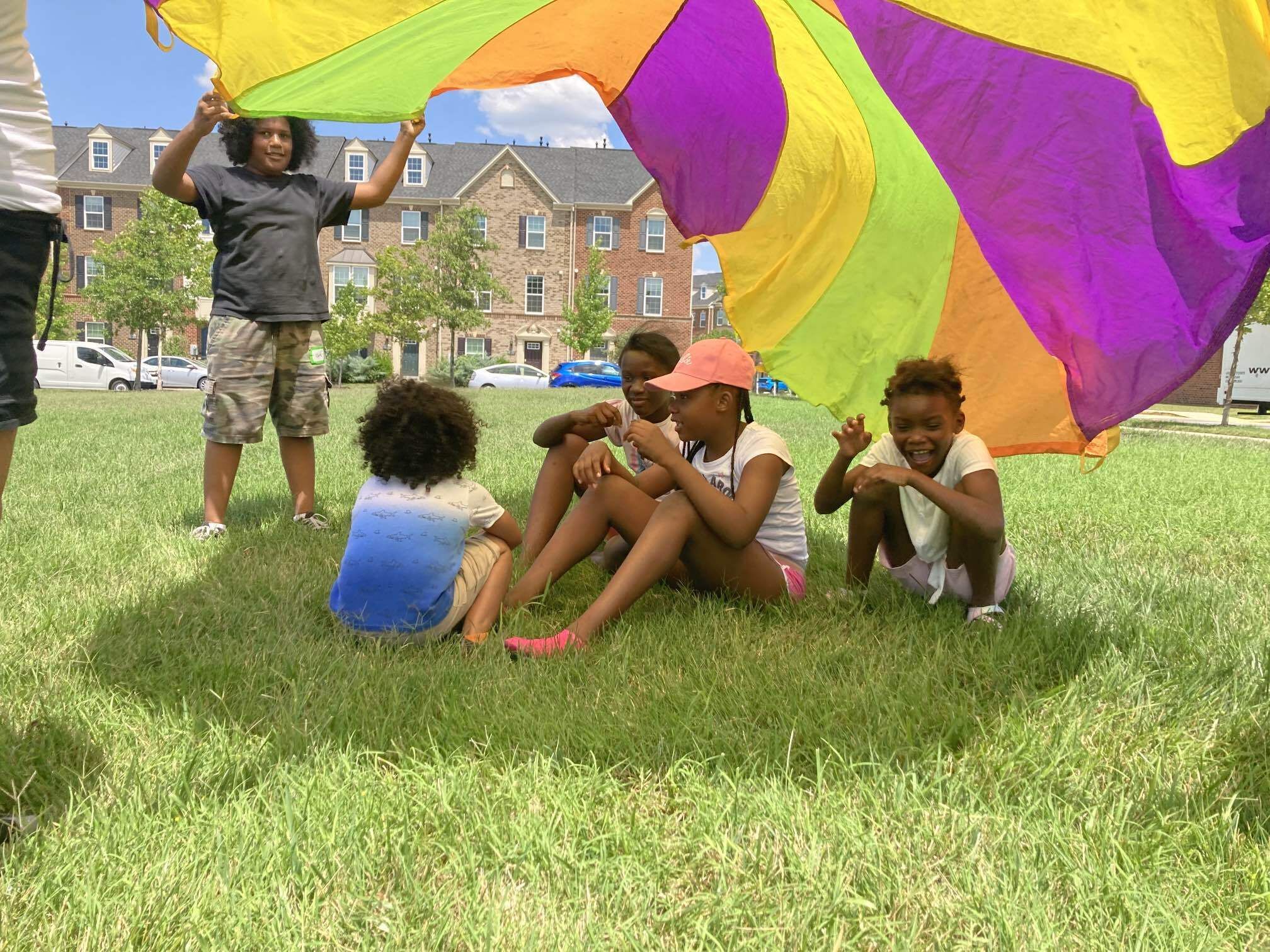 If you walk into a Playtime summer camp, you will be greeted by a cacophony of sound. Today's theme is "nature play," and the summer campers are really getting into it. At one station, children exclaim their delight while performing a simulated environmental clean-up with water bottles and sponges; at another, children praise each other's handmade clay flowers; and at the third station, children create their "ideal environment," by using building blocks, model homes and cars, and toy animals. Later in the day, camp staff and children go on a nature hike at a nearby walking path nestled in the woods. "What's that?" one child shouts while pointing at a large bird on the lake in the distance. A Playtime volunteer responds, "That's a heron. Did you know that herons are a sign of good luck?"
One thing is for certain: the entire Playtime team feels extra lucky, having just wrapped up two exciting weeks of summer camp, serving 32 children in our Washington, DC and Prince George's County programs. Looking back, it's gratifying to see what the children have taken away from the experience. As you think back to your fond memories of summer camp, here's a snapshot of some of the many benefits we witnessed during Playtime's Summer Camp last month.
Creates a space for childhood joy
One Playtime staff member noted early on that, "When asked how the kids' summer was going, multiple kids told me that Playtime has been the favorite part of their summer." We saw this childhood joy reflected in the way children would rush into the play space and immediately grab their favorite toys, participating in free play before the activities officially began. Our children need and deserve a safe space to play where they can leave behind the difficult reality of housing insecurity or homelessness and just be children. Most didn't have other camp opportunities all summer and we wanted to help fill this void.
Unveils and validates talents
One of our staff members recalls observing a 5-year-old girl, our youngest camp participant at the Prince George's County program, during an interactive field trip to the National Children's Museum. She told us, "I was impressed with her focus and drive to complete building her automaton without assistance." The fact that she is so young makes her sense of motivation, ability to problem solve, and interest in an engineering project especially encouraging.
In DC, one of the campers didn't socialize and play as much with others since she was one of the few older children in the group. However, she participated fully in art activities. During one art session, she pulled out her own sketchbook that she carried with her. She decorated the cover herself and it was clear she had a talent for art. Given the theme of nature, she drew a beautiful sunset over the ocean.
Provides enrichment not otherwise available when school is out
Parents consistently told us that if their child were not at camp, they would be "sleeping or on a game," "running errands with me," or "at home on her iPad." When dropping off their children, families can feel secure knowing we're keeping them busy with fun, educational, and skill-building activities.
Exposes children to therapeutic effects of nature and outdoor play
Despite the heat, we made it a priority to safely spend time outside. That included our hike through a nature trail, field games, and free play on the playground. Exposure to the outdoors is known to be therapeutic, and children experiencing housing insecurity deserve these positive effects just like everyone else.
Encourages and builds healthy relationships
One of the most gratifying parts of summer camp is seeing relationships blossom between children who may have started out nervous or uncertain. We would see that after just one week of camp, previously shy children were interacting with ease. Parents told us how their children began to "look forward to seeing the kids and staff every day" and that "the kids loved the camp and getting to know the kids in their neighborhood." Camp provides opportunities for children to create connections with their peers, building confidence and social skills. We thank our partners, supporters and families for making memories together that we hope will last a lifetime!